Kansas City, Mo. — Backup guard Chris Bober was declared Kansas City's long snapper Tuesday, at least for field goals, as the Chiefs struggled to remedy what suddenly has become a worrisome problem.
Defensive end Jared Allen, who many thought had the best chance of unseating the inconsistent Ed Perry as long snapper, was out sick with food poisoning Tuesday. He was unable to practice at all as the Chiefs went through a light workout to begin preparations for Saturday's game at the New York Giants.
Allen, the team's top pass-rusher, suffered food poisoning Monday night, K.C. coach Dick Vermeil said, adding that he expected him to be ready for the Giants.
"I expect him back tomorrow," Vermeil said. "But again, I'm not a doctor. He wasn't feeling very good. He'd have to be awfully sick not to practice, that guy. He'd crawl on the field."
The importance of a dependable long snapper was driven home last week in a 31-28 loss to the Dallas Cowboys that dropped the Chiefs into a three-way tie for the final AFC wild-card spot.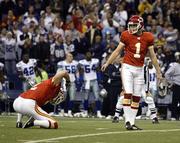 Perry, signed last month when Kendall Gammon went out for the year, made a poor snap on the final play, and Lawrence Tynes' 41-yard attempt sailed wide right.
Tynes spent Tuesday's practice just watching Bober and Perry competing to see who would be snapping for him. Allen, if he's able to get back to practice today, probably will get another look as long-snapper, a job he had in college at Idaho State.
Bober, a six-year NFL veteran, was a center and right tackle for the Giants in 2003 and has seen occasional time as a long snapper.
"Chris Bober's pretty good," Tynes said. "He seems to be pretty accurate. He's a little rusty. He hasn't done it in a while."
Vermeil indicated a decision had been made, although Perry would remain on the roster.
"We'll check (Bober) out during the week. But he'll be the snapper for field goals I think right now, unless he doesn't do a good job in preparation during the week," Vermeil said. "But I think he will."
Right after the loss to Dallas, Tynes insisted on taking the blame for the miss even though the snap back to holder Dustin Colquitt was obviously low and inside.
But Tuesday he seemed to change his attitude a bit.
"When I was coming down, the ball wasn't there," he said. "So I swung blindly, thinking Dustin was going to get it down, and he did. And I gave it a chance. And you know it didn't go in.
"You've just got to have a short memory and move on after a miss. Thankfully, we have three more games and that wasn't the last game of the year."
In the meantime, the team went through what Vermeil called a "jog-through."
After taking Monday off, there will be only three days of preparation before leaving Friday for New York. At 8-5, the Chiefs' path to the playoffs is clear.
All they have to do is win the last three and they're in, no matter what anyone else does.
"These guys know what's at stake," Vermeil said. "Only four teams in the AFC have a better record than we do. So we're in the hunt. I don't think that frightens these guys."
Copyright 2018 The Associated Press. All rights reserved. This material may not be published, broadcast, rewritten or redistributed. We strive to uphold our values for every story published.