Balwin — Lady Luck hasn't exactly been Katelyn Miles' constant companion the last four years.
The Baldwin High senior seemed primed for a stellar high school basketball career from the moment she first suited up for the Bulldogs' varsity squad as a precocious freshman. However, her rookie campaign came to an early end when she tore the anterior cruciate ligament in her right knee.
Unfortunately for Miles, it was a sign of things to come. Penciled in as a starter her sophomore year, the 5-foot-8 power forward tore the ACL in her left knee that winter, ending her season in January.
Her junior year required a four-week midseason hiatus due to a sprained right ankle, and now, as a senior, she's battling a possible stress fracture in her right foot that requires her to hobble around school in a protective boot.
Despite the fact the athletic department training room has started to feel like a second home, Miles hasn't let the string of injuries dampen her love for the game.
Considering everything you've gone through over the last four years, have you ever had that moment where you sat there and said, "Why me?"
Yes, definitely. Especially last year. I just kept thinking, after I sprained my ankle, I was like, "Another injury?" I just couldn't believe it was me. Everybody else seemed to never get hurt, and then it just comes to me, and every year. This is the first time. In junior high, I never had any problems. It's when I got to high school that I started having all these problems.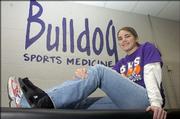 Of all the injuries you've had, which one was the toughest one from a physical standpoint to overcome?
Probably my second ACL. I had cartilage torn too, so I had to be on crutches for a month after my surgery instead of like just a week. ... Both of the ACLs were hard to recover from.
Physically you've had a lot to overcome. How tough has it been mentally on you to have to endure what you've had to the last four years?
It's been kind of hard, I guess. I always knew I'd come back and play again the next year. Some people told me they wouldn't blame me if I didn't come out the next year, but I never even thought about not coming back out. The first year that I tore my ACL, it didn't seem that hard. I guess I just did what I had to get done. But then the second time, that was harder to overcome. I knew what I was going to have to go through and I didn't want to have to do that again. It was harder to make myself go through it again.
What was going through your head when you stepped on the floor this year and you started feeling pain in your foot?
Kind of now, I've come to expect to get hurt, so it wasn't that big of a surprise that I was hurt again. But, I just knew that it probably wasn't as bad as it could be injury-wise, so I knew that I could probably overcome it.
Do you look back over your career and wonder what might have been had injuries not got in the way?
Yeah, definitely. My freshman year, I got hurt right after we won a huge game against Spring Hill, and we ended up losing to Spring Hill in sub-state. I just felt like I could have contributed. Now, I feel my injuries have made me a little slower and I'm not as quick as I used to be. So I'm kind of thinking, "What if I hadn't gotten hurt those years?" I could have been better, or I hope I would have been better than I am now.
A lot of people would have said, "Enough, I've had it." What is it that keeps you coming back for more?
I just really love basketball. That's the only sport I've kept playing all four years. I used to play volleyball and track, but I haven't for a couple of years. I just love basketball and I really like playing with the girls that are on the team, and I love the coaching staff. I just love it. I don't think I would be able to stand not being a part of it.
Can you even remember what it feels like to play healthy, or does it just seem like all you've done is play injured?
I really can't. I try to think about is sometimes. I'm wearing a knee brace this year just kind of more for comfort reasons, and I keep wondering what it'd feel like to not wear anything - any braces, or not have my ankles taped, or anything - and I think it'd be a really weird feeling, to not have any injuries.
What's your typical routine now? Do you get to practice as much as anybody else, or do you spend a lot of time in the training room?
I spend a lot of time in the training room. Especially now with my foot, I haven't practiced every day. I'm getting treatment on my foot and I get my ankles taped every day just to prevent any ankle sprains again. Now over Christmas break I probably won't practice a whole lot. I ride the bike a whole lot so I stay in shape.
How frustrating is it that the only time you're really getting out there is come game time?
It's frustrating not to practice sometimes. A lot of my teammates kind of wish they were me because they don't like practicing as much, but I don't mind practicing. I actually like it. So, sometimes, when I've done treatment, I go up and watch the practice and I just keep wanting to go sub in or something, but I can't because I'm sitting there with my foot up or something. So it's kind of frustrating just watching them practice when I wish I could be out there helping them get ready for the next game.
Do you have any worries looking 20 years down the road what all this is going to have done to you?
I'm already having problems. I think it's probably the cold weather actually with my knees. Getting out of my car, I can't get out of my car very fast. And sitting down on the floor and standing up - it takes me a while. My knees aren't the same any more. So I can already feel it coming, and I know it's probably just going to get worse from here.
Copyright 2018 The Lawrence Journal-World. All rights reserved. This material may not be published, broadcast, rewritten or redistributed. We strive to uphold our values for every story published.