I'll never forget Gary Barnett sitting at the front of the room, facing the Northwestern point-shaving scandal, with doubt and suspicion facing him. Several players had taken money from gamblers. One had intentionally fumbled because the team was about to score a touchdown that would've been a serious problem for him.
You've heard of leaders taking responsibility, of captains going down with ships. On Dec. 3, 1998, coach Barnett said this: "The stain is on the individuals. It's not on us."
Four years later, he signed a contract extension at Colorado to make him one of the nation's richest coaches. He was right. The stain wasn't on him. It never is.
Barnett was fired Thursday at Colorado and still walked off with a $3 million contract settlement. We're going to hear about the rape allegations against Colorado football players and recruits and all the dirty stuff that popped up a few years ago at CU under Barnett. But you know what?
That had nothing to do with his firing. All those women, nine at last count, screaming for help. Barnett survived all of that. Two female trainers saying they were sexually assaulted by an assistant coach and coerced into having sex with recruits. Barnett survived that. A recruit saying he was promised sex. No stain on Barnett. He survived.
This is why he was fired: Nebraska 30, Colorado 3. Texas 70, Colorado 3. Those things happened in the last two weeks. A week earlier, CU was talking to Barnett about a contract extension. Nine screaming women meant nothing to CU. But a loss to Nebraska?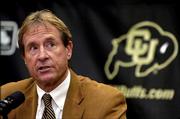 Goodbye, Gary.
Colorado is the most disgusting college athletic program in the country. I say that mostly out of humanity, but also, unfortunately, as a CU alum. When Colorado didn't fire Barnett before, it sent out the worst social message, our higher education system sanctioning the objectification of women, and worse. But to fire him after blowout losses so soon after letting him skate on the scandals?
Another slap to those women.
We need to take a serious look at our college athletic system, our values system. The scariest thing is that Barnett and Colorado weren't doing things outside the culture of sport. They just got caught.
Barnett won a Big 12 title at Colorado and several North Division titles, a league coach of the year award.
He said he'll coach again, and he will. Someone will hire him. No stain.
Think of the women. When you allege rape, especially against popular athletes, you're cast as the villain. You asked for it. What were you doing out that night anyway? And what's the evidence?
At Colorado, three women had the courage to speak out. And then a fourth, kicker Katie Hnida, knew she wouldn't be standing alone. And then others stood. And they were attacked in public again, not only on talk radio, but also by the good-ol'-boy network. CU defended Barnett. And how Bobby Bowden could have publicly doubted those women, I'll never know.
The smear campaigns were made up: Allegations were that Hnida was topless in a hot tub with football players, as if that matters.
And what did Barnett do when she first alleged rape? He sent an e-mail to his boss asking, "How aggressive should I be re: Katie ... sexual conquests by her, etc."
He should have been fired for that attack plan alone.
Think of the message CU could have sent by firing Barnett two seasons ago, the message to other women that it's OK to stand up, the message to the sports world about women.
What's the message now?
It's hard to remember the Barnett that took Northwestern to the Rose Bowl. So many years of watching him are flashing by. So many words, so many denials. So many promises of loyalty, so many job interviews. So many denials.
The stain. Just a girl. How aggressive? He sent an e-mail to his Northwestern players telling them the whole buzz about him interviewing at Colorado was media fiction, that he would be back to lead the Purple to Pasadena. Then CU's first choice turned down the job and Barnett was gone.
Once in Kenosha, Barnett told me, politely, how naive I was, expecting coaches to be pristine. He said when he was younger he felt the same way.
The job calls for dirty hands, I guess. And that's frightening because it applies to coaches everywhere.
CU fired the president, the chancellor, the athletic director, but protected the football team. Until it lost to Nebraska. Stain on Barnett? I don't think so.
Back during the point-shaving scandal, Barnett said that gambling was a problem of college life: "What occurred here was a societal issue."
He was right. But he was a leader of men in that society. It was his role as an educator to help shape that society. That was his job, right?
Ha! His job was to beat Nebraska.
Copyright 2018 The Lawrence Journal-World. All rights reserved. This material may not be published, broadcast, rewritten or redistributed. We strive to uphold our values for every story published.