Rebecca Phipps is fighting a battle against decay.
The Watkins Community Museum of History in downtown Lawrence has thousands of items in its collection - dresses, books, knickknacks of all varieties - many of them dating back to the 1800s and early 1900s. Lots of it is stuff that, in other hands, would have crumbled to dust by now.
Lots of it is stuff still in danger of crumbling.
"Some of our books have mold growth, which we can usually take care of," Phipps, the museum director, said last week."Silk in particular is really bad - if it's not in perfect condition, it goes really fast."
Museum workers have placed ultraviolet filters on the building's large windows to slow the harsh effects of light on antiques. The museum's temperature and humidity are monitored on a daily, even hourly, basis.
"The preservation of the collections is one of our top priorities," Phipps said. "The deterioration of artifacts and paper documents is a problem everywhere - everybody faces it."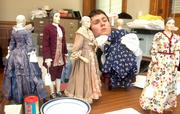 A new study from Heritage Preservation confirms that. The nonprofit organization's national survey of more than 3,000 museums, libraries and archives showed that most such institutions have had some specimens and artifacts damaged by temperature, humidity, light or improper storage.
"We owe it to the future to preserve these collections, but we also owe it to the past," said Kristen Overbeck Laise, who directed the Heritage Health Index.
Losing history
Fifty-one Kansas institutions participated in the survey, including Watkins, Kansas University's Spencer Museum of Art and Natural History Museum and the Lawrence Public Library, all in Lawrence. Survey results from individual museums were not made public.
Damage toll
A national survey of more than 3,000 museums, libraries and archives revealed that: ¢ 59 percent of such institutions had collections damaged by light. ¢ 53 percent had collections damaged by moisture. ¢ 65 percent had collections damaged due to improper storage.
Source: HeritagePreservation.org
John Simmons, director of KU's museum studies program, said even big museums with deep pockets struggled to keep their artifacts in good shape.
"It's a constant challenge for everyone," he said.
Simmons also serves as the collections manager for the natural history museum. The main building was constructed in 1902, though it has since been retrofitted with climate control systems.
Despite those efforts, some of the thousands of bird, mammal and insect specimens possessed by KU have been lost over the years. That's a loss - not just to the exhibits, but to scientists who use the DNA from those specimens for research.
"Our collections are made of protein - birds, mammals, insects - and protein tends to degrade," Simmons said. "So we might be more aware of these issues than others."
Sofia Galarza Liu, collections manager at the Spencer Museum of Art, said the art collection there was mostly in good shape, though silk objects were always tough to preserve. The more pressing issue, she said, is room.
"When we moved into the building in 1978, we did not have 25,000 items," she said. "As the collection grows, there are challenges storing everything properly."
But big, well-funded museums like the Spencer - and the state-run Kansas History Center in Topeka - have advantages that smaller, community-based institutions like Watkins do not.
Phipps is trying, however. The federal Institute of Museum and Library Science in October sent a consultant to assess preservation efforts at Watkins. A report should be available by the end of January. Spencer Museum is applying for a similar assessment.
Preservation of old artifacts, Phipps said, is important.
"These things are our history, they're our culture, they're our past," she said. "This is a way of understanding who we are, and where we came from. And it's just plain fun."
Copyright 2013 The Lawrence Journal-World. All rights reserved. This material may not be published, broadcast, rewritten or redistributed. We strive to uphold our values for every story published.