San Diego — At the very least, the San Diego Chargers were lulled to sleep against the Miami Dolphins. Worse, they might have ignored coach Marty Schottenheimer's mantra by looking ahead on their schedule.
Whatever the case, the Chargers' playoff push took a body blow from the Miami Dolphins, who pulled a 23-21 upset Sunday to end San Diego's five-game winning streak.
Gus Frerotte threw two touchdown passes to Chris Chambers in the third quarter, and the Dolphins won their third straight to remain alive for the AFC East title.
"We just came out flat," star tight end Antonio Gates said. "We didn't come out playing Charger football. That led them to believe that they can take this game, which they did. Anytime you let a good team like Miami hang around, one or two plays can change a game, and that's exactly what happened."
On paper, this was the most winnable of the last four games for the defending AFC West champion Chargers (8-5).
"We had a great opportunity and we missed it," Chargers linebacker Donnie Edwards said.
The Chargers' next two games are on the road, at undefeated Indianapolis and division rival Kansas City, before they finish at home against Denver, which leads the AFC West by two games. The Chargers are behind Jacksonville and Pittsburgh for the two wild-card spots.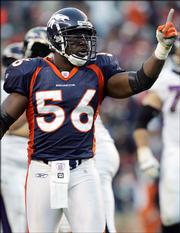 "Do we have a tough road? Sure," said Schottenheimer, who ceaselessly preaches the one-game-at-a-time cliche. "But this game doesn't define the season."
Still, the Dolphins (6-7) felt they didn't get the Chargers' best shot.
"Yeah, I think they were looking ahead," said free safety Yeremiah Bell, who forced a critical fumble by Drew Brees late in the game.
The Dolphins held LaDainian Tomlinson to 75 yards on 21 carries and no TDs. Brees was 35-of-52, both career highs, for 279 yards and two TDs, with one interception. Gates had a career-high 13 catches for 123 yards.
Colts 26, Jaguars 18
Jacksonville, Fla. - Indianapolis now can turn its attention to history.
Peyton Manning threw two touchdown passes to Marvin Harrison, Mike Vanderjagt kicked four field goals, and the Colts became the fourth team in NFL history to start 13-0, locked up a third consecutive division title and secured home-field advantage throughout the playoffs.
Now, coach Tony Dungy will have to decide whether to rest players or try to become only the second team in NFL history to finish the regular season unbeaten.
Manning, who had 122 yards passing in a 10-3 win against the Jaguars (9-4) in the second week of the season, nearly doubled that at halftime Sunday, and finished 24-of-36 for 324 yards. Harrison caught six passes for 137 yards.
Broncos 12, Ravens 10
Denver - Kyle Johnson made a tiptoe catch for a touchdown, Champ Bailey set a franchise record with an interception in his fifth straight game, and Al Wilson made a big hit on the goal line to lift the Broncos (10-3) past Baltimore (4-9).
The victory increased their lead to two games in the AFC West and tied them with Cincinnati for the second-best record in the AFC. Jake Plummer threw for 236 yards and the touchdown to Johnson. Tatum Bell was held to 63 yards, and Mike Anderson had only 21.
Giants 26, Eagles 23, OT
Philadelphia - Jay Feely's 36-yard field goal with 3:55 left in overtime lifted the New York Giants to a victory that put them closer to the NFC East title and knocked reigning conference champion Philadelphia (5-8) out of the playoff chase.
Feely, who cost the Giants (9-4) a victory two weeks ago in Seattle by missing three late kicks, made four field goals. Tiki Barber had 124 yards rushing and one TD catch, and the Giants overcame Eli Manning's three interceptions in the fourth quarter and overtime.
Bucs 20, Panthers 10
Charlotte, N.C. - Carnell "Cadillac" Williams ran for 112 yards and a pair of a touchdowns to lead the Bucs into a tie with the Panthers for the NFL South lead.
Both Tampa Bay (9-4) and Carolina (9-4) have NFC South rivals Atlanta and New Orleans remaining on their schedules, and the Falcons (7-5) are 1 1/2 games out of the lead heading into tonight's game against the Saints.
Bengals 23, Browns 20
Cincinnati - Rudi Johnson ran for a season-high 169 yards, and Shayne Graham kicked a 37-yard field goal on the final play as Cincinnati stayed in firm control of the AFC North. Cincinnati (10-3) reached double-digits in victories for the first time since 1988, its last Super Bowl season.
The Browns (4-9) had a chance to pull off an upset, but couldn't stop Johnson or overcome two penalties in the closing minutes. Leigh Bodden was called for interference and illegal contact on Chad Johnson to set up Graham's game-winner.
Patriots 35, Bills 7
Orchard Park, N.Y. - Tom Brady finished with 329 yards passing and two touchdowns for New England.
Corey Dillon added a 12-yard touchdown run and 102 yards rushing. Troy Brown and Christian Fauria each caught short touchdown passes as the two-time Super Bowl champions (8-5) scored the first 35 points and closed in on the AFC East title as Buffalo (4-9) lost for the fourth straight game.
Seahawks 41, 49ers 3
Seattle - Matt Hasselbeck completed eight of his first nine passes for three touchdowns over the first 15:22, and the Seahawks cruised. Hasselbeck finished 21-for-25 for 226 yards and a season-high four scores in three quarters of Seattle's team-record ninth straight win. Bobby Engram caught two touchdowns.
NFL rushing leader Shaun Alexander added 108 yards on 21 carries and his league-leading 23rd rushing score late in the third quarter. He is four TDs from the league's single-season record of 27, set by Priest Holmes of Kansas City in 2003.
Seattle (11-2) didn't punt until four minutes remained in the third quarter against the 49ers (2-11).
Vikings 27, Rams 13
Minneapolis - The Minnesota defense forced six turnovers and held Steven Jackson to 67 yards rushing in their sixth straight victory. With the Bears losing at Pittsburgh, the Vikings (8-5) pulled within one game of the division lead in a season that appeared lost after a 2-5 start.
Steelers 21, Bears 9
Pittsburgh - Jerome Bettis plowed through the muck and snow for two touchdowns and 101 yards as the Steelers (8-5) ended Chicago's eight-game winning streak. Bettis' previous season high was 56 yards against Cincinnati on Oct. 23, and he had only 186 yards in Pittsburgh's first 12 games.
Titans 13, Texans 10
Nashville, Tenn. - Kris Brown hooked a 31-yard field goal wide left even as Tennessee coach Jeff Fisher was trying to call a timeout, and the Titans held on. Rob Bironas kicked a 21-yard field goal with 10 seconds left that gave Tennessee (4-9) the sweep of its AFC South rival (1-11) for the division cellar.
Redskins 17, Cardinals 13
Tempe, Ariz. - Clinton Portis ran for 105 yards as the Redskins rallied from a 10-3 deficit to keep their slim playoff hopes alive. Portis ran 15 yards for a touchdown to tie the game at 10 in the third quarter, and Antonio Brown gave the Redskins (7-6) the lead for good 17-13 with a 91-yard kickoff return with 3:29 left in the third quarter.
Kurt Warner passed for 255 yards for the Cardinals (4-9).
Jets 26, Raiders 10
East Rutherford, N.J. - Curtis Martin missed his first game since 1998 because of a sore right knee, but third-string running back Cedric Houston and third-string quarterback Brooks Bollinger led the Jets (3-9). Marques Tuiasosopo threw two interceptions, lost two fumbles and was sacked six times for the Raiders (4-9).
Packers 16, Lions 13, OT
Green Bay, Wis. - Given a second chance after an apparent fourth-quarter safety was overturned, Green Bay (4-9) drove 56 yards in overtime to set up Ryan Longwell's 28-yard field goal to beat the Lions (4-9).
Copyright 2018 The Associated Press. All rights reserved. This material may not be published, broadcast, rewritten or redistributed. We strive to uphold our values for every story published.