Davi Serrao heard the fire alarm Saturday afternoon while he was relaxing in his room in the K.K. Amini Scholarship Hall on Kansas University's campus.
Wearing sandals and no jacket, the KU junior from Salvador, Brazil, made his way outside with the temperature near 40 degrees and snow still on the ground from earlier this week.
Serrao said he saw no smoke in the building as he exited.
"We saw water coming down the ceiling of the living room," he said, this time barefoot.
Lawrence-Douglas County Fire & Medical responded about 3 p.m. to the residence hall at 1318 La. because of the alarm. When they arrived, firefighters used squeegees to try to remove the two to three inches of water in the living room's main floor, said battalion chief Bill Stark.
A water pipe in the ceiling above the main floor had broken. It caused water to run onto the main floor and another floor below. The two upper floors sustained no damage, he said.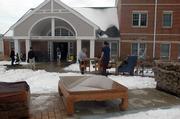 About 20 of the scholarship hall's residents helped firefighters carry out couches, tables and other furniture from the living room to the sidewalk outside.
Later, residents checked their rooms for damage and worked with firefighters to mop the living room.
Stark said he could not identify what caused the pipe to break, but typically, he said, firefighters see pipes that freeze and break, which causes a leak when the pipe thaws out.
A damage estimate was unavailable.
"It will take probably a couple of days to figure it all out, and that's not counting what structurally may have been damaged," Stark said.
Serrao said when he returned to inspect his room on the first floor that some water had seeped in, apparently from a room next door. He said the damage appeared not to be substantial.
"Things like that can happen," he said.
KU housing officials declined to comment at the scene Saturday as they worked with several of the residents of the all-male scholarship hall to clean the main floor.
The hall houses 50 men, and it opened in 1992, according to the Web site for the KU Department of Student Housing.
Stark said he did not expect the water damage to displace any of the residents.
Copyright 2018 The Lawrence Journal-World. All rights reserved. This material may not be published, broadcast, rewritten or redistributed. We strive to uphold our values for every story published.