Some of her running buddies consider Celeste Leonardi an embarrassment.
But she's not afraid to admit it: When the weather gets cold, she doesn't hit the pavement. She hops on a treadmill.
"I think indoors I can actually get a better feel for it," says Leonardi, 61. "I put the treadmill at a certain pace and stay with it. I don't find it to be that boring. It's OK."
With the right knowledge and understanding of equipment, local fitness experts say an indoor workout - free from the risk of frostbite - can be just as effective as exercising outdoors.
"People look at (colder weather) as a disadvantage," says Matt Parrott, a Kansas University doctoral student in health, sport and exercise science. "But it can be a fitness advantage of making sure you make a comprehensive workout program."
Moving around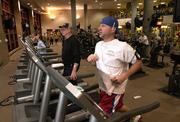 In addition to several local health clubs, Lawrence offers free workout facilities at sites operated by the city's department of parks and recreation. And with KU facilities such as Allen Fieldhouse and Anschutz Sports Pavillion no longer open to public walkers, department stores such as Target have become popular as makeshift indoor tracks.
Some people see exercising indoors as boring.
But indoor gyms - which usually offer cardiovascular equipment including treadmills, elliptical machines, stationary bicycles and rowing machines - offer athletes a chance to diversify their workouts, says Josh Magaha, a personal trainer at KU's Student Recreation Fitness Center and owner of Healthy Bodies By Design, a local fitness consulting company.
"I call it the 8-10 rule," he says, noting the number of minutes some exercisers stay on a piece of equipment before rotating to another one.
"I call it 'gym ADHD (attention-deficit/hyperactivity disorder),'" he says. "They can't sit in the gym for a long time. I have it. I'm always moving around."
For some who are used to only doing cardiovascular exercise outdoors, that means starting a weight program during the winter months. For the first time in a while, they're around weight machines because they're exercising indoors.
The basics
Making sure your indoor workout is as effective as your warm-weather outdoor workout is a matter of thinking in terms of heart rate and calories - and not distance, Magaha says.
Ideally, he says, his clients will use a portable monitor to measure how many calories their outdoor workouts burn. Then, it's a matter of using the indoor equipment to replicate a similar workout.
In either case, he says, exercisers should maintain a heart rate that is 55 to 85 percent their maximum. The formula to figure that is:
Take 220 minus your age. Take that number minus your resting heart rate (which can be taken by counting your pulses per minute). Take that number times 0.55 to get 55 percent of your maximum, and times 0.85 to get the upper end of the range.
And no matter what your cardiovascular workout of choice is, Magaha recommends a longer-than-usual warm-up during cold weather. That means five to 10 minutes of light walking or jogging to get the blood pumping.
"I compare our bodies to a car to a lot of my clients," he says. "A lot of people start up their car (in cold weather) and drive, and it's kind of rough. If you let it warm up five to 10 minutes, it's going to be a lot smoother."
Running
If they're not careful, joggers who resort to a treadmill could end up burning far fewer calories than they do outdoors, says Parrott, who also is a personal trainer at an Overland Park fitness center.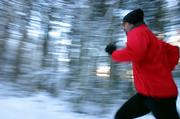 "There's going to be certain wind drag that's existent outdoors that will make your workout easier indoors," he says. "In essence, you're going to have to go further to burn the same number of calories."
The treadmill belt also pulls your foot along, so it's slightly easier than running in pavement.
He also suggests trying to mimic the terrain you're used to running on. In Lawrence, that could mean programming the treadmill to do some steep inclines. He says for every 1 percent incline plugged into a treadmill, a jogger will burn an extra 10 percent more calories.
For some joggers, and especially those with knee, ankle or hip soreness, elliptical trainers provide another option.
Cycling
Like running indoors, riding a stationary exercise bike requires adjusting the tension to mimic a typical outdoor workout.
But Magaha says he's not convinced it strengthens as many muscles as riding a bicycle on the road or a trail.
"There's a lot more body movement involved in outdoor biking than on the stationary recumbent bike," he says.
Leonardi, who runs six or seven miles several times a week, says her membership to Lawrence Athletic Club - and its treadmills - offers her a way to stay in shape until warmer weather appears again in the spring.
She likes the technology the equipment offers.
"You know how many calories you're burning and how far you've gone," she says. "You can do some hill repeats. I don't think it's all that bad."
Indoor workout options
Free city-run facilities ¢ Community Building, 115 W. 11th St. Open 7 a.m.-10 p.m. Monday-Thursday, 7 a.m.-9 p.m. Friday, 10 a.m.-6 p.m. Saturday and 1 p.m.-6 p.m. Sunday. ¢ East Lawrence Recreation Center, 1245 E. 15th St. Open 8 a.m.-10 p.m. Monday-Thursday, 8 a.m.-9 p.m. Friday, 10 a.m.-6 p.m. Saturday and 1 p.m.-6 p.m. Sunday. ¢ Holcom Park Recreation Center, 2700 W. 27th St. Open 7 a.m.-10 p.m. Monday-Thursday, 7 a.m.-9 p.m. Friday, 10 a.m.-6 p.m. Saturday and 1 p.m.-6 p.m. Sunday.
For KU students, faculty and staff ¢ Student Recreation Fitness Center. Free for students and available for a charge for faculty and staff and student spouses and partners.
For-fee fitness centers ¢ Baldwin Athletic Club, 926 Ames St., Baldwin. ¢ Body Boutique, 925 Iowa. ¢ Curves for Women, 2104 W. 25th St. ¢ Lawrence Athletic Club, 3201 Mesa Way. ¢ Olympic Iron, 520 E. 22nd Terrace. ¢ Therapyworks Wellness Center, 1112 W. Sixth St.
Other options ¢ Department stores. Many walkers are choosing to take laps indoors at stores. ¢ Swimming. The city's Indoor Aquatic Center, 4706 Overland Drive, offers year-round swimming. Hours for lap swimming are 5:15 a.m.-7:45 p.m. Monday-Friday, 9 a.m.-7:45 a.m. Saturday and 1 p.m.-5:45 p.m. Sunday.
Copyright 2018 The Lawrence Journal-World. All rights reserved. This material may not be published, broadcast, rewritten or redistributed. We strive to uphold our values for every story published.