Boone, N.C. — Richie Williams is accustomed to big days at Appalachian State. Just last season, he set an all-division NCAA record with 28 straight completions in a single game.
Yet none of that should compare to today, when he and the Mountaineers play host to Furman in a Division I-AA semifinal hours before he receives his diploma. The game starts at noon, and the graduation ceremony is scheduled for 6 p.m.
Of course, after 41â2 long years of balancing football and school work, he's ready to move on.
"I'm so tired of going to class, it's ridiculous," Williams said with a big smile. "Finally, that's all I can say."
He might not have to use that degree in graphic arts and imaging just yet. The 6-foot-3, 190-pound quarterback has gotten interest from NFL scouts for the diversity of his skills - he seems just as comfortable in the pocket as he does running the option.
This season, while leading Appalachian State (10-3) to the final four for only the third time, he has completed 65 percent of his passes for 2,622 yards and 20 touchdowns while rushing for a career-high 914 yards.
He threw for 159 yards and rushed for 34 in a 36-8 loss to Kansas University on Sept. 10 at Memorial Stadium.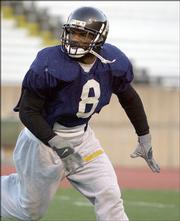 Williams was at his best a week ago against Southern Illinois, completing 20-of-28 for 367 yards in a 38-24 victory. No wonder he has drawn comparisons to Texas quarterback Vince Young, a Heisman Trophy contender who has similar talents.
As far as Williams is concerned, there is no comparison.
"I wouldn't go that far, man," he said. "Vince Young, he's younger than me, but I look up to him. That's a great compliment, but I just wouldn't go that far."
His teammates might disagree.
"I learn a lot from Richie," said sophomore tailback Kevin Richardson, Appalachian State's leading rusher with 1,277 yards. "Last year, I just tried to do everything Richie did. You learn everything from him - how to be successful, how to be humble. He's the best."
Well, at least in one category of the record book, that is true. Williams was nearly perfect Oct. 9, 2004, when he finished 40-for-45 for 413 yards against Furman - yep, the same team the Mountaineers face today. Along the way, he was accurate on those 28 consecutive throws, beating the previous mark of 23 set by Tennessee's Tee Martin in 1998.
Williams would settle for far less impressive numbers this time - as long as Appalachian State advances.
"As far as his numbers, Richie couldn't care less," coach Jerry Moore said. "He's interested in winning. This is his third year to be voted a captain, and I think that tells you what the players think about him and how much they respect him."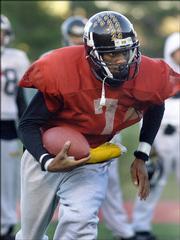 The same goes for Moore, who is completing his 17th season at the school in the mountains of North Carolina. He brought the Mountaineers this far five years ago, when they traveled to Montana and lost in overtime.
The only other trip to the semifinals came under coach Sparky Woods in 1987, a run that ended with a home loss to Marshall.
But that lack of a championship has done nothing to quell fan support, which always has been there for the program. During the regular season, Appalachian State averaged a crowd of more than 23,000 in a facility that has 16,000 actual seats.
It certainly helps that the opponent is a rival from the Southern Conference. Furman is the only visiting team with more than one appearance at Kidd Brewer Stadium that has a winning record (8-7).
The past six games in the series have been decided by a total of 15 points, including a 34-31 victory at home earlier this season for the Paladins. As is befitting in this rivalry, that one wasn't decided until Appalachian State had a field goal blocked on the final play.
And that's hardly the most exciting recent finish. Three years ago, Furman quarterback Billy Napier threw a touchdown pass with seven seconds left to give his team a 15-14 lead before coach Bobby Lamb opted to go for two and a three-point lead.
Napier's pass in the flat was intercepted by Josh Jeffries at the four, and he quickly pitched the ball back to speedier teammate Derrick Black. With a host of blockers, Black made it to the end zone virtually untouched, giving Appalachian State two points and a 16-15 victory.
The improbable comeback was dubbed "The Miracle on the Mountain," and an entire page in the Mountaineers' media guide is devoted to it. Williams and his teammates would like nothing better than to add another page with a victory today.
"It's been a wild ride," Williams said. "It's like someone is writing a story for us, and you couldn't have scripted it any better."
Copyright 2018 The Associated Press. All rights reserved. This material may not be published, broadcast, rewritten or redistributed. We strive to uphold our values for every story published.