A storm spread a blanket of snow up to a foot thick across much of the Northeast on Friday, snarling commutes, closing schools and piling up the flakes so fast that shovel crews could barely keep up.
At least three fatal crashes were blamed on the storm, including a New Jersey couple who died when a sport utility vehicle crashed through their bedroom.
Along the Massachusetts-New Hampshire line, the snow fell at a rate of 2 inches per hour. It also fell quickly throughout Connecticut, lowering visibility on highways and secondary roads.
"You shovel it and it comes right back," said Joe Parise, who was clearing the steps of the federal courthouse in New Haven. "You can't stay ahead of it. You shovel, you come back in an hour, you shovel again, that's all you can do."
In Maine, the community of Kennebunk recorded more than 4 inches of snow in a single hour.
The snow gave high school teacher Ron Ruth the day off Friday, and he was digging out his house and cars in Cornwall, Pa.
"I don't mind the first couple, but when you have to do this a bunch of times during the season, it gets to be a drag," said Ruth, 32.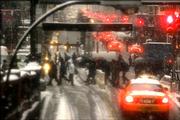 The storm, which dumped up to 10 inches of snow in the Midwest, left as much as 14 inches in parts of New Hampshire; a foot in portions of Massachusetts and around Poughkeepsie, N.Y., and 10 inches in northwest New Jersey.
In New Jersey, authorities were investigating a wreck involving an SUV that veered off a road, crashed into a house and killed a couple as they slept. Crashes in Ohio also killed two drivers.
In Boston, a plane was forced to make an emergency landing after it was struck by lightning from the storm as it approached the runway. No injuries were reported among the 35 passengers and three crew members aboard Comair Flight 5437 from Baltimore, but a spokesman for Logan Airport said the plane sustained minor damage.
Logan and other airports were closed later in the afternoon amid heavy snow and high winds, leaving travelers stranded.
A Philadelphia commuter rail line was shut down for about an hour Friday after a truck slid through a grade crossing and hit a train. No injuries were reported and the train was operable, said Felipe Suarez, spokesman for the Southeastern Pennsylvania Transportation Authority.
Airports throughout the region canceled flights, while schools were canceled from Maryland to Maine.
The storm wound down in the southern part of the region by Friday morning, leaving behind rain and slush in many areas.
The storm was blamed for at least 10 deaths in Kansas, Missouri and Indiana; five other fatalities in Kentucky were described as possibly storm-related. In Chicago, a jet trying to land in heavy snow Thursday evening slid off a runway at Midway International Airport and into a busy street, killing a 6-year-old boy and injuring 10 other people.
Copyright 2018 The Associated Press. All rights reserved. This material may not be published, broadcast, rewritten or redistributed. We strive to uphold our values for every story published.