SAN ANTONIO — Here's one more reason for the Boston Celtics to regret not getting the chance to draft Tim Duncan in 1997: They haven't beaten the San Antonio Spurs since.
Duncan scored 20 points and had 10 rebounds Friday night as the Spurs beat the Celtics for the 17th straight time, 101-89.
Boston is the only team in the NBA without a victory over San Antonio during the Duncan era, though it had chances Friday when the Spurs surrendered several double-digit leads.
"We played well for the majority of the time," Duncan said. "We had a little bit of ups and downs - a little more than we wanted to."
San Antonio led by as many as 16 in the third quarter, but the Celtics trimmed that to 75-65 at the end of the period.
Boston's Orien Greene scored on a fast-break layup to make it 79-71 with about 10 minutes remaining. But Duncan then made a left-handed jumper, and Nick Van Exel found Manu Ginobili for an alley-oop layup, and after that the Celtics never got closer than 10.
"I thought we caught the Spurs on an off night," Boston coach Doc Rivers said. "They were beatable."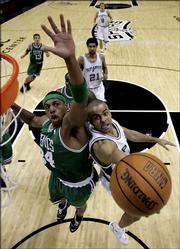 But the last time the Celtics did beat San Antonio was in January 1997, five months before Duncan was drafted first overall by the Spurs. The Celtics finished with the NBA's worst record during the 1996-97 season and had the best shot at Duncan, but they ended up getting Chauncey Billups with the third pick.
Lakers 93, Bulls 80
Chicago - Kobe Bryant scored 23 points, Lamar Odom added 19 points, and Los Angeles beat Chicago for its fourth straight victory.
Chicago's Kirk Hinrich finished with 26 points and seven assists after missing Wednesday's victory at Orlando because of a concussion.
Mavericks 90, Grizzlies 83
Memphis, Tenn. - Dirk Nowitzki matched his season high with 35 points and grabbed nine rebounds as Dallas snapped the Grizzlies' six-game winning streak. Nowitzki was 13-of-29 from the field and missed only one of nine free throws before fouling out with 37 seconds left.
Sonics 106, Jazz 90
Salt Lake City - Rashard Lewis scored 26 points, and Reggie Evans grabbed a season-high 18 rebounds to lead Seattle past Utah. The Sonics' win was marred by forward Danny Fortson's ejection in the fourth quarter, when he had to be restrained by teammate Ray Allen, coach Bob Weiss and assistant Jack Sikma after receiving his second technical foul of the game.
76ers 119, Bobcats 115
Philadelphia - Allen Iverson scored 43 points, and Kyle Korver tied a career high with 26, helping Philadelphia end a four-game losing streak. Andre Iguodala added 20 points, and the starters had all but six points for Philadelphia.
Nuggets 100, Heat 92
Miami - Carmelo Anthony scored a season-high 40 points, including a pair of game-sealing free throws with 14 seconds left, to help Denver beat Miami, sending the Heat to their fourth straight loss. Anthony was 13-of-30 from the field and 13-of-14 from the foul line, finishing one point shy of his career high. Marcus Camby had 18 points and 12 rebounds for the Nuggets.
Trail Blazers 98, Hornets 95, OT
Portland, Ore. - Reserve Juan Dixon scored a season-high 28 points, and rookie Martell Webster made a go-ahead three-pointer in overtime, leading Portland over New Orleans.
Nets 109, Cavaliers 100
Cleveland - Vince Carter scored a season-high 38 points, and Richard Jefferson added 18, including nine in the final 5:07, as New Jersey won its fourth straight road game. LeBron James scored 32 points and became the first Cleveland player to score 30 or more points in four straight games since 1981.
Pistons 106, Warriors 103
Oakland, Calif. - Rasheed Wallace scored 10 of his 22 points in the fourth quarter, and Chauncey Billups had 29 points and the go-ahead basket for Detroit.
Suns 85, Knicks 81
Phoenix - Steve Nash scored 19 points, Raja Bell had 17, and Phoenix held off New York for its ninth consecutive victory, the most by an NBA team this season.
Late Thursday game
Rockets 106, Kings 95
Sacramento, Calif. - Tracy McGrady scored 28 points, and Houston beat Sacramento.
Copyright 2018 The Associated Press. All rights reserved. This material may not be published, broadcast, rewritten or redistributed. We strive to uphold our values for every story published.