Billings, Mont. — For ranchers like Bill Donald, the resumption of beef trade with Japan, two years after mad-cow disease turned up in this country, would be huge. Still, he's not ready to sell his own cattle to Japan, and he's not alone.
"I think most ranchers won't bother with it this first year," the south-central Montana rancher said. "There are a lot of hoops to jump through."
New requirements for doing business in Japan could keep many producers from tapping that once-lucrative market - at least initially. Selling beef to Japan will mean maintaining a paper trail from the ranch to the feedlot to the slaughterhouse, to verify cattle are killed at 20 months of age or younger. The levels of infection for mad-cow disease are believed to rise with age, and plans for resuming trade have been based on that cutoff.
But birth records alone won't do, and in many cases, producers will need third-party verification of their documents and herds for corroboration, according to beef experts at Iowa State University. It will cost ranchers anywhere from 50 cents a head to $1.25 a head, by one estimate, just to put information into a database.
"It seems very few people know about this kind of stuff, but the writing's been on the wall about this a long time," said John Lawrence, a livestock economist who directs the Iowa Beef Center at Iowa State and who has tracked and written on the issue.
While the rules may seem confusing to ranchers, and a bit of a hassle, he and other industry experts say producers need to get used to them: Mad-cow disease has changed the rules necessary to participate in global trade.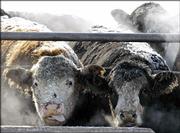 "This is a very tangible example of that," Lawrence said. "Things are different than they used to be."
U.S. agricultural and political leaders have been pushing hard for the reopening of the Japanese market, which had previously been the biggest overseas market for American beef. Japan bought more than $1 billion worth in 2003 before the discovery of mad-cow disease in a Washington state cow in December 2003.
That case, the first of two, prompted dozens of countries to ban U.S. beef; at least 70 countries have since lifted their bans, at least partially, according to the chief economist of the National Cattlemen's Beef Assn.
Japan also has made moves toward resuming limited trade. A final report on the safety of U.S. beef, expected at any time, could clear the way for that as early as this month, industry and government officials said.
Though this has been in the works for over a year - and the subject of government negotiations and consistent Internet and breakfast table chatter - questions remain about whether producers will be prepared to take advantage of the market when trade resumes and whether there will be a sufficient supply of cattle. This time of year, many producers, like Donald, have long since sold their calves.
Major meatpackers and dozens of feedlots have paperwork and plans in order, but many ranchers are still confused or in the dark about what they must do to qualify for the Japanese market, industry leaders and experts say.
"I'll be honest with you. I think ranchers, as you look at them, are sitting there asking, 'What are we supposed to be doing?"' said John Paterson, an extension beef specialist at Montana State University in Bozeman, who admits to being a bit fuzzy himself on some of the finer points.
Despite a framework for trade outlined by the U.S. Department of Agriculture, some cattlemen groups have been careful about advising ranchers on how best to position themselves, choosing to wait for the final word from Japan.
"The devil will be in the details," said Steve Pilcher, executive vice president of the Montana Stockgrowers Assn., "and it's a matter of me not trusting Japan totally."
Donald, who is president of the stockgrowers' group, said he worries about setting a precedent in giving in to the demands of a country whose cutoff date for slaughter U.S. agriculture officials contend has no scientific basis.
U.S. restrictions on Canadian cattle shipped into this country require that animals be slaughtered at younger than 30 months of age. Canada has reported three cases of mad-cow disease since May 2003.
But James Hodges, president of the American Meat Institute Foundation in Washington, D.C., said the debate comes down to meeting the demands of the customer. Getting into the Japanese market again will be important for the United States and pressing its case for fuller trade, he and others said.
"We're going to be going into a new era here," said Lynn Heinze, a spokesman for the U.S. Meat Export Federation. "It's a pain in the neck that will probably be good in the long run."
Copyright 2018 The Associated Press. All rights reserved. This material may not be published, broadcast, rewritten or redistributed. We strive to uphold our values for every story published.