Princeton, N.J. — In a marriage of new technology and old documents, a vast treasure trove of information about life in the early Islamic world is about to go online, enabling Muslims, scholars and the merely curious to peer into a window on the faith's rich history.
Numbering more than 10,000 texts, Princeton University's collection of handwritten Islamic documents, books and letters is the largest in North America. They date from the eighth and ninth centuries - soon after the faith was founded - to the fall of the Ottoman Empire in the early 1900s; most have gone unseen outside New Jersey for nearly a century.
Now the university is starting a four-year project to categorize the entire collection, and to digitize and post online about 200 of the most important works so that scholars around the world can study them.
"Our collection really is a world resource," said Don C. Skemer, Princeton's curator of manuscripts. "Every single subject you can imagine that you could find in a library, it's all there."
Priceless collection
Documents to be scanned include rare, ornamental Qurans dating back to the ninth century; interpretations of the Quran and Islamic law, treatises on philosophy, science, art, magic and medicine, as well as poetry and history.
Lavishly illustrated in inks that remain vibrant and lustrous hundreds of years later, the books include drawings depicting ancient battles and conquests.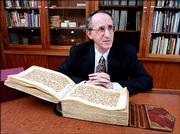 A botanical manual from the 15th century includes drawings and descriptions of different types of leaves and plants. There are even instructions on how to write a good letter.
The collection was amassed mostly by a Princeton University alumnus in the late 1800s and given to the university in 1942. Written in Arabic script in Persian, Turkish and other languages, the manuscripts are stored in special climate-controlled vaults guarded by an elaborate security system.
"You couldn't put a price on it," Skemer said. "It's a collection that took over 100 years to put together."
Educational resource
Yaser El-Menshawy, chairman of Majlis Ash-Shura of New Jersey, the state's council of mosques, said the material would help Muslim scholars - and ordinary Muslims - around the world learn more about their heritage.
"One of the things that really makes life easier for Muslims is the availability of information on the Web," he said. "For instance, I have to give sermons, and lots of times, it's so much easier today than it was 10 years ago; you just go online and enter the topic you want to speak about, and there's so much there.
"The higher up you go in terms of scholars, the more important it is to have information available," El-Menshawy said. "I think there will be a lot of interest in this."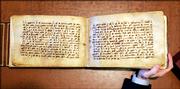 The texts to be reproduced online will be photographed by special cameras that will not damage the delicate inks and papers; scanned into large graphic files and eventually posted on the Internet. Overhead digital cameras to be used for the project can photograph only about four or five pages per hour because of the large size of the files.
"It's a very exacting process," Skemer said. "You want to do it, and you want it to be permanent; you don't want to have to go back and do it again at some point."
About 200 of the texts should be scanned within the next two years, and it should take another year and a half to two years to have them online. Others may be added in the future, Skemer said.
Viewing the texts will be free.
"There are no copyright issues with these," Skemer said. "There are no impediments at all. It's a common heritage, and they will be available to anyone to look at."
Copyright 2018 The Associated Press. All rights reserved. This material may not be published, broadcast, rewritten or redistributed. We strive to uphold our values for every story published.