You might call Phyllis Burdge a walking miracle.
Afflicted with multiple sclerosis, Burdge couldn't walk for 12 years. During two of those years, she was bedridden and sometimes unresponsive in her Hays apartment.
"The doctors had written me off," she said.
Today she is walking through Kansas and 10 other states on a journey that will take her more than 7,000 miles into Florida and back. She still wears a brace on her left leg, and she has the help of a guide dog trained to assist people with disabilities.
"We're not going in a straight line; it's a serpentine route," Burdge said Friday during a brief stopover in Lawrence. "The object isn't to get there. The object is the journey."
Burdge began her walk Nov. 20 in the Hays Medical Center parking lot. It was on that date in 1998 in the medical center's rehabilitation gym that she took her first steps after 12 years battling MS.
Along her route, Burdge is doing some motivational speaking by talking about her experiences with MS while also talking about and demonstrating the reliability of guide dogs. She has some speaking engagements lined up in advance and will add more to her schedule.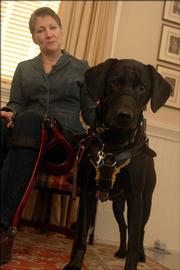 Burdge considers herself a storyteller. She has a basic message she wants to deliver, and she has many stories and personal philosophies about how she portrays that message.
"It's about embracing every bit of life, whether we're able to walk or run or roll in a wheelchair," she said. "It doesn't matter how we get around. What matters is we keep going."
Burdge, who calls Washington, Kan., her home when she's not walking, will walk no matter what the weather is as much as possible. She wants to have someone with her following in a "chase car." The chase car is her own car, and friends or volunteers drive it for her. If no one is available, then she drives herself. She drove into Lawrence from Topeka and then planned to drive to Overland Park.
Burdge is walking and riding with a 4-year-old black, female Labrador retriever named Justice. She and Justice have been together for two years. She holds the dog's harness as she walks, using a cane. The dog was trained by KSDS Inc., formerly known as Kansas Specialty Dog Services/Midwest.
The cost of training a dog is about $15,000 and it is given to a disabled person without cost, said Burdge, who once worked as a VISTA employee at KSDS.
"She is worth far more than that," Burdge said of her dog. "How can you put a value on mobility? I can walk without her but very slowly."
Justice also is trained to position herself so Burdge can use her to get up in case of a fall. The dog will pick up Burdge's cane if she drops it and assist in numerous other ways.
Burdge is paying her way on her speaking trip by asking for donations or negotiating fees for her talks. She has a Web site, www.lookyhere.org/pbj. The best way to contact her and schedule a speaking engagement is by e-mail. She said she has flexibility in her schedule, and a list of locations she will be visiting is on the site.
Other than hard work in rehabilitation, there is no explanation for her dramatic health turnaround since the days when she was confined to a bed, she said. MS, however, does go into various degrees of remission, she said. There is no cure.
"Now it's hard to believe my life was like that," she said of life before her current recovery. "It was awful. But I always hope I still remember a little bit of that."
Copyright 2017 The Lawrence Journal-World. All rights reserved. This material may not be published, broadcast, rewritten or redistributed. We strive to uphold our values for every story published.