Eight-year-old Alexa Malik likes to sing.
And she says playing the part of a mischievous angel fits her personality perfectly.
But she knows being cast in a Christmas play at St. Margaret's Episcopal Church isn't about her.
"It's 'cause it's Jesus' birthday," she says. "Our preacher says it's mainly because people can learn about Jesus."
Across Lawrence, children like Alexa - and even some adults - are rehearsing Christmas plays for performances later in the month.
Line by line, they're learning the Christmas message so they can pass it on to others. And at the same time, they're keeping alive a dwindling tradition of church-based theater at the holidays.
"Anecdotally, we tend to associate Christmas pageants with the mid-1950s," says Henry Bial, an assistant professor of theater and film at Kansas University who studies religious theater. "These days, we seem to see them as nostalgia projects, like oldies radio."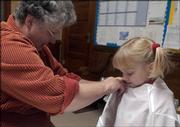 Many churches simply act out nativity scenes, as has been done annually at Vinland United Methodist Church for years.
Others, like St. Margaret's, 5700 W. Sixth St., have more elaborate plays.
This year's selection at St. Margaret's, "Angel Alert," features a variety of music, including rock, hip-hop and gospel selections.
It tells the story of angels waiting to tell shepherds about Jesus' birth. A cast of 50 children in grades kindergarten through eighth has been rehearsing since Oct. 19.
The underlying message: The angels still rejoice over Christ's birth.
"It's not entertainment," says Tandy Reussner, the church's pastor of worship. "We try to avoid anyone in music who's in it to entertain. They'll learn that message more deep down themselves when it's presented to their parents or grandparents. There's something poignant about kids getting up and singing about the Christ child."
Christmas pageants can be an effective way for churches to focus on their doctrine, Bial says.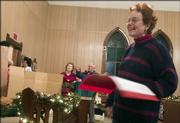 "Theater and other public rituals are a community's way of affirming shared beliefs," he says. "Especially around the holidays is a poignant time to do that."
Because of that focus, the plays aren't always top-notch theater.
"There is an element, because they're based on a biblical story and their framework is religious, they're more ritualized than theatrical," Bial says. "Everyone works really hard to learn their part, but the emphasis is less on classic theater."
If nothing else, the Christmas pageants can help combat the secular influences that have crept in on the holiday, Bial says.
"There's something particularly attractive with the homespun holiday pageant when the holidays have become commercialized," he says. "It's a way to do something local and homey in a way the Radio City Christmas Spectacular, which is another tradition, isn't."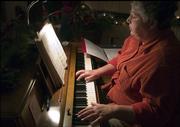 'Real meaning'
It's fighting the commercialization that helps drive Margie Hinkle, who is directing a play this month at North Lawrence Christian Church, 647 Elm St.
The play, "No Room for Jesus," is a modern-day version of "A Christmas Carol." It has a cast of about 25 members, including a few adults.
"I think it's important because we need to keep the real meaning of Christmas in it, as this play does," Hinkle says. "Everyone who participates learns a little more about how they should be and how they should receive Christ, especially with children. When they do something like this, it sticks with them."
'Test of time'
Sometimes, the Christmas plays really are homegrown.
First Baptist Church, 1330 Kasold Drive, is performing "A Free Gift for All," written by church member Bob Heacock. It's the third time the church has performed the play in the last 37 years.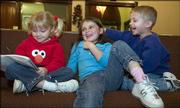 Heacock and his daughter, Anne Munsterman, are co-directing the play. It centers on a grandfather telling the Christmas story to his grandchildren.
"It's one of those plays that stands the test of time," Munsterman says. "It's a traditional play."
For some church members, the play is about maintaining a family tradition.
"The parents love to have their children involved with it," Munsterman says. "It creates wonderful memories for these kids. Most of the time, the adults have memories of a Christmas show, fond memories. I think parents want that for their children."
Alexa Malik, who will perform in St. Margaret's play later this month, is already making those memories.
She says the play has given her a perspective on what it would have been like to be a shepherd learning of Jesus' birth.
"I bet it was creepy, seeing angels," she says. "It was creepy if it was their first time."
Seasonal pageant agenda
Churches across Lawrence will be presenting Christmas pageants this month. A sampling of those being presented: ¢ "The Luke 2 Story," Clinton Parkway Assembly, 3200 Clinton Parkway, 10 a.m. Sunday. ¢ "Christmas in Reverse," Lawrence Wesleyan Church, 3705 Clinton Parkway, 6 p.m. Sunday. ¢ "A History of the Candy Cane," Good Shepherd Lutheran Church, 2211 Inverness Drive, 10:30 a.m. Dec. 18. ¢ "No Room for Jesus," North Lawrence Christian Church, 647 Elm St., 6 p.m. Dec. 18. ¢ Living nativity, Lawrence Free Methodist Church, 3001 Lawrence Ave., 6 p.m.-8 p.m. Dec. 18. ¢ "A Free Gift for All," First Baptist Church, 1330 Kasold Drive, 6:30 p.m. Dec. 18. ¢ Living nativity, Vinland Fairgrounds, quarter mile east of county roads 1055 and 460, 6 p.m.-9 p.m. Dec. 21, 22 and 23. ¢ "Angel Alert," St. Margaret's Episcopal Church, 5700 W. Sixth St., 5:30 p.m. Dec. 24.
Copyright 2018 The Lawrence Journal-World. All rights reserved. This material may not be published, broadcast, rewritten or redistributed. We strive to uphold our values for every story published.