Prosecutors say they're planning to file more charges against the man accused of setting the deadly Boardwalk Apartments fire.
In a hearing Friday in District Court, Assistant Dist. Atty. Amy McGowan said prosecutors were still looking into injuries suffered by people who survived the fire.
"There will be more charges coming prior to preliminary hearing," McGowan told Judge Jack Murphy.
Jason Allen Rose, 20, already has been charged with three counts of murder and one count of aggravated arson for the Oct. 7 fire, which destroyed a block-long building at Boardwalk Apartments in the 500 block of Fireside Drive.
The fire killed Kansas University student Nicole Bingham, social worker Yolanda Riddle and electrician Jose Gonzalez, and injured or displaced dozens more residents.
Rose's preliminary hearing is scheduled for Feb. 22.
Photo Gallery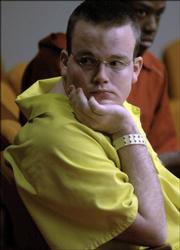 Jason Allen Rose
Judge Murphy denied a request Friday by Rose's attorneys to lower Rose's bond from $500,000. Attorney Ron Evans argued that Rose likely would be able to get one of his fast-food jobs back and could be supervised by his former foster parents - factors that Evans said would make him likely to appear in court and reduce the risk to public safety.
"I think Mr. Rose is a candidate to be released," Evans said.
But McGowan said her office opposed any reduction.
"He put a significant portion of the community at risk," she said.
Murphy denied the request, saying he didn't think $500,000 was excessive. He said he might revisit it after Rose's preliminary hearing.
Boardwalk Apartments Fire
More on the Boardwalk Apartments Fire
Copyright 2018 The Lawrence Journal-World. All rights reserved. This material may not be published, broadcast, rewritten or redistributed. We strive to uphold our values for every story published.