As the third quarter began Friday night during Veritas Christian's boys basketball game against Topeka Cair Paravel, Eagles assistant coach Gary Hammer mumbled to the official scorer and statisticians that Veritas "needed to play some defense."
Well, Veritas did play defense in the second half, and played it well, but it wasn't enough as the Eagles lost, 66-53, at the East Lawrence Center.
"We played very poor defensively in the first half," Veritas coach Doug Bennett said. "I thought we did a much better job in the second half. We gave up 35 points in the first half and held them to 23 points in the second half. That is something that we can build on."
In that first half, Veritas shot 35.5 percent from the field, hitting only 11 of 31 shots. Cair Paravel, meanwhile, hit 15 of 27 shots for a 55.6 field-goal percentage. Cair Paravel scored 24 of its 35 points on layups, repeatedly beating Veritas off the dribble for easy trips down the lane.
"They like to attack the basket and get you out of position defensively," Bennett said. "They make you go for the steal, and then they take full advantage of it and break you down."
Cair Paravel opened the second half on a 10-2 run, pushing the lead to 14 at 45-31. Veritas refused to quit, however, and put together a 9-0 run in the fourth quarter capped by a running floater by Marcus Holman. The shot cut the lead to seven at 49-42, but Veritas would get no closer. The Eagles finished with 30 turnovers.
Photo Gallery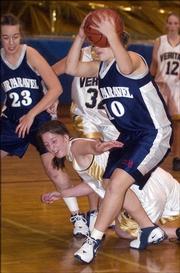 Veritas Christian vs. Topeka Cair Paravel 12-09-05
"If we would have come out in the first half like we did in the second half, we would have won the game," said senior Mark Randtke, who finished with 25 points and 21 rebounds.
Veritas (5-1) will play Tuesday at St. Mary's Academy.
Cair Paravel girls 67, Veritas 36
The Veritas girls didn't fare any better, shooting only 33 percent from the field and hitting 16 of 48 shots. They went 2-for-6 from three-point range and only 2-for-7 from the free-throw line. The Eagles also had 29 turnovers, most of which came against Cair Paravel pressure.
"I didn't think we handled their pressure very well at all tonight," Eagles coach Kevin Shelton said. "When you play a team like Cair Paravel, they are going to pressure you a lot, and we didn't do a good job of holding our own and handling the pressure."
Sophomore Kristie Tiegreen was a bright spot, scoring 16 points on 7-of-16 shooting. Taelyr Shelton scored nine points and also had five assists. Veritas (4-2) will play Friday at Wichita Homeschool.
Copyright 2018 The Lawrence Journal-World. All rights reserved. This material may not be published, broadcast, rewritten or redistributed. We strive to uphold our values for every story published.