New York — From John Cappelletti to Mike Rozier, running backs once walked off with 11 consecutive Heisman Trophies.
Recently, though, quarterbacks have been too tough to pass up. The last five Heisman winners have been QBs.
Reggie Bush is a good bet to snap that streak tonight and become the 41st ball carrier to tuck away college football's most prestigious individual award since Chicago halfback Jay Berwanger won the first in 1935.
USC's untouchable tailback is the favorite after capping a brilliant junior season with two breathtaking games and an outrageous average of 8.9 yards a carry.
"That's crazy. That's ludicrous," said Tony Dorsett, the 1976 Heisman winner from Pittsburgh. "It is just unheard of. Reggie's a game-breaker, a big-game player. That's all you need to say."
Bush will be joined by Texas quarterback Vince Young and USC quarterback Matt Leinart in midtown Manhattan when the Heisman is handed out for the 71st time.
The three finalists have been the favorites even before the season started.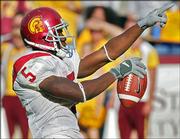 Leinart, last year's Heisman winner, became a contender to repeat as soon as he decided to bypass the chance for NFL millions and return for his senior season. The left-hander has thrown for 3,450 yards and 27 touchdowns this season, improving to 37-1 as a starter for the top-ranked Trojans.
If Leinart wins the Heisman, he'll join Archie Griffin as the only players to win the award twice. The Ohio State running back did it in 1974 and '75.
As a past winner, Leinart gets to cast a ballot.
"Reggie's got my vote," Leinart said after Bush ran for 260 yards and two touchdowns in the Trojans' 66-19 victory over UCLA that wrapped up a perfect regular season.
If Bush wins the award, he and Leinart will become the third set of teammates to win the award in consecutive years.
The last were Army's famous Mr. Inside and Mr. Outside, Doc Blanchard and Glenn Davis, in 1945-46.
And the two USC stars could become the first Heisman winners to play together in a college game when USC (12-0) meets No. 2 Texas (12-0) in the Rose Bowl for the national title Jan. 4.
Or if Young wins, the national-title game will be a matchup of Heisman winners for the second straight year - and the second time ever.
Last season, after Leinart won the award, USC played Oklahoma and 2004 Heisman winner Jason White in the Orange Bowl, marking the first Heisman showdown in college football.
Young always has been one of the most dangerous runners in the country - he showed that in last year's Rose Bowl, scoring four touchdowns on the ground against Michigan - but this season he's developed into a topflight passer. The junior leads the nation is passing efficiency at 168.6 with 26 touchdown passes.
He would be Texas' third Heisman winner. The first two were running backs. Ricky Williams won it in 1998 and Earl Campbell ('77) was part of that long run of Heisman running backs, starting in 1973 with Penn State fullback Cappelletti and ending with Nebraska I-back Rozier.
In between, USC cemented its reputation as tailback U. with Charles White ('79) and Marcus Allen ('81) joining O.J. Simpson ('68) and Mike Garrett ('65) as Heisman winners.
USC has gotten back in the Heisman-winning business in recent years with quarterbacks. Carson Palmer took the award in 2002, then Leinart last season.
With six Heisman winners, the Trojans trail only Notre Dame, which has seven.
Bush and Young seemed neck-and-neck in the Heisman race for most of the season, then Bush put a season's worth of highlights together in one game against Fresno State on Nov. 19. He gained 513 all-purpose yards, helping USC escape with a 50-42 victory.
As with Leinart, Bush is being touted as a possible No. 1 pick in the NFL draft, even with a year of college eligibility left.
Bush has said he would decide whether to go pro after the Rose Bowl.
"Right now, college football is fun," Bush said. "It's everything I ever dreamed up. You only go to college once."
Copyright 2018 The Associated Press. All rights reserved. This material may not be published, broadcast, rewritten or redistributed. We strive to uphold our values for every story published.