The Lawrence church attended by young Langston Hughes has been named to the National Register of Historic Places.
The new status should help leaders of the St. Luke AME Church, 900 N.Y., in their fundraising efforts to preserve the nearly century-old building.
"We are extremely happy and pleased," the Rev. Verdell Taylor said Thursday when he heard the news. "It's something we have been striving for, certainly since 2001, but even when I came here as a pastor since 1995, I was asked to look into National Register status."
The African Methodist Episcopal congregation got its start in 1862 during the Civil War. Taylor said a building was intended for near 10th and New Hampshire streets, but plans changed after nearly two dozen Union soldiers - most of them black - were slaughtered near the site during Quantrill's Raid in 1863.
"There were people around the era of the Civil War with a vision for the future," Taylor said of the church's early members. "At that time, it was really difficult, because we didn't have a lot; the opportunities weren't there."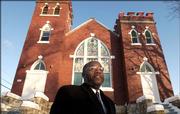 The current building was constructed in 1910. Not long after, Hughes began attending services with his foster aunt known as "Auntie Reed." He later wrote about his experiences in the church in the book "The Big Sea."
In a 1960 radio interview, he said those early days at the church had influenced his writing style.
"I was very much moved, always, by the rhythms of the Negro church, of the spirituals, of the sermons," Hughes said. "And when I began to write poetry, that influence came through."
Bill Tuttle, an American studies professor at Kansas University, said he became aware of the building's significance - and the church's history - during 2002 celebrations of Langston Hughes' birth. He joined efforts to raise money to preserve the building.
"The more I learned about the church, the more I thought it was crucial to preserve its history," Tuttle said. "We fought long and hard to get this ... but it seemed to be an open-and-shut case to us all along."
The new addition means Lawrence has 31 properties on the National Register, plus another seven districts - including downtown - and a national landmark in Haskell Indian Nations University.
More than $135,000 has been raised for building preservation efforts, including $100,000 from the federal government. But repairs to the church's roof and walls could cost more than $1 million, architects have said.
National Register properties are eligible for state tax credits - credits the nonprofit church can "sell" to a broker to raise money for restoration efforts. The federal status will also help St. Luke attract grants.
"It's coming along," Taylor said of fundraising efforts. "It's coming slowly, but it's coming along. It's going to be a long process, because it's going to be a lot of money."
Copyright 2018 The Lawrence Journal-World. All rights reserved. This material may not be published, broadcast, rewritten or redistributed. We strive to uphold our values for every story published.