Could it be the shape of the hat so popular in England in the early 1800s, or could it be the shape of a portly gentleman of the same era that inspired the figural pitcher, or toby jug? Many of these pitchers were shaped like standing or seated figures. No doubt the humorous look of the figure added to the amusement at the local pub when it was used. Many of these pitchers were made in the Staffordshire district of England, an area with numerous small potteries. The idea spread, and soon figural pitchers were made to look like animals, mermaids, birds and other creatures. Similar salt and pepper shakers, cream pitchers and teapots were made. Today it is possible to collect both old and new figural pitchers. Easiest to find are those shaped like a 19th-century man or a bird.
Q: I have a small, antique glass oil lamp with a molded glass handle. The base is marked with the patent dates Jan. 7, July 14 and Aug. 11, 1868. I can also make out the name "RIPL Co." Do these clues tell who made it?
A: Your lamp was manufactured before 1876 by Ripley & Co., which was founded in Pittsburgh in 1865. The 1868 patents were granted to Daniel C. Ripley Sr. for a lamp "constructed with a pressed base, one or two handles and a globe blown thereon." Daniel C. Ripley Jr. took over the firm in 1872, sold his interest in 1874 and opened another Ripley & Co. lamp-making business in 1875. Your one-handled version, if in excellent condition, sells today for nearly $300.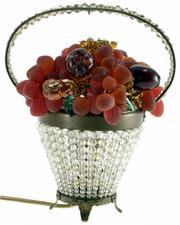 Q: Can you identify a large, acorn-shaped teapot that we inherited from my mother? It is silver-plate. The pot itself is shaped like an acorn, the finial is a double acorn, and there are acorn relief decorations on the base, handle, spout and bottom half of the body.
A: The pattern of your teapot is "Charter Oak," one of the earliest named American silver patterns. A complete coffee-and-tea service was illustrated in the 1867 catalog of the Meriden Britannia Co., of Meriden, Conn. The pattern was produced into the early 1900s by the International Silver Co. Small variations in the pattern were made throughout the years. Your teapot, if in good condition, could be worth up to $1,000. The term "Charter Oak" refers to an oak tree in Hartford, Conn., where the Connecticut colony's charter was said to have been hidden in 1687 to protect it from seizure by agents of King James II.
Q: When I was a baby - I'm 76 now - I was given a heavy, metal bank shaped like a standing elephant with a howdah on his back. His trunk is curled up and under his body. There's an embossed blanket decorated with crescents and stars under the howdah. The bank is 4 inches long and 3 inches high. The bronze-colored paint covering the elephant has worn off, but I don't see any marks. Can you tell me who made it?
A: Your cast-iron elephant bank was made by the A.C. Williams Co. of Ravenna, Ohio. At the turn of the 20th century, A.C. Williams was one of the world's largest manufacturers of toys and still banks. It made two different styles of elephant banks: one, patented in 1906, with its trunk curled away from its body, and the other, patented in 1912, with its trunk curled toward its body. Yours is the later version. It came in three lengths: 3 inches, 4 inches and 6 3/8 inches long. Yours, the middle size, was manufactured from 1912 through 1934. It is a common bank and sells for about $40. This bank has been reproduced.
Q: We have salvaged a square oak bookcase that rotates on a metal pole. It has two tiers to hold books and a flat top shelf that can be used as a reading stand. The base rests on wooden wheels. The bookcase is marked with three 1876-'77 patent dates and the words "Danner's Revolving Bookcase, manufactured by John Danner Mfg. Co., Canton, Ohio." Please give us some information about the company and tell us whether this is a valuable piece.
A: John Danner was born in Canton about 1823 and began his career there as a clerk in a dry-goods store. He ran his own clothing and dry-goods business from about 1866 to 1876, then invented and patented his revolving bookcase. After two years running his own small factory, he was inundated with orders, and opened a larger plant. By the 1890s, Danner's company employed about 100 people and manufactured not only revolving bookcases but also revolving drug cases, drug cabinets and store stools. The revolving bookcases were practical for small offices and living rooms because several books could be kept close at hand in a compact space. Today, Danner revolving bookcases sell for prices ranging from about $500 to $5,000, depending on height, condition, quality and design.
Tip
Don't put too much in old furniture drawers. Weight will loosen the drawer bottom and wear out the bottom of the drawer's sides. Put candle wax on the drawer runners to help them open easily.
Current prices
Current prices are recorded from antiques shows, flea markets, sales and auctions throughout the United States. Prices vary in different locations because of local economic conditions.
¢ Three Bee Blacking & Stove Polish, image of children with product, 4 1/4 x 2 1/2 inches, $145.
¢ Shaker spinning wheel, oak, maple and pine, original finish, Canterbury, N.H., c. 1830, 33 inches, $750.
¢ Silhouettes, hollow cut, husband and wife, Daniel Chase (1772-1852) and his wife Sarah Ferrin, 6 x 5 inches, pair, $325.
¢ Needlework sampler, alphabets, lettering, urns of flowers, geometric designs in various colors, signed "Drucilla Anderson, Fannettsburg, 1837," 23 x 11 inches, $340.
¢ Flemish-style armchair, walnut, turned posts, stretcher base, pierced and carved front slat, tapestry upholstery with birds and foliage, 19 inches, $445.
¢ Rozenburg tiles, landscape, hand-painted, scene of shepherd putting his flock into their shed for night, shades of beige and brown, 1910, 18 x 11 inches, 6 tiles, $500.
¢ The Green Hornet oil-painting set, sealed, sculptured green plastic frame, 10 oil-paint capsules, brush, Hasbro, 1966, Greenway Productions, $610.
¢ Lenox Belleek drink set, tapered cylindrical pitcher, 5 cylindrical mugs, oval bowl, dragon-form handles, gilt rim, 7 pieces, $645.
¢ White wool coat, black plastic buttons, 1960s, Pierre Cardin, size 10, $2,160.
¢ Sterling-silver trophy urn, Kentucky State Fair Roadster Championship, 1938, chased shells, acanthus leaves and roses, 16 inches, $3,420.
Copyright 2018 The Lawrence Journal-World. All rights reserved. This material may not be published, broadcast, rewritten or redistributed. We strive to uphold our values for every story published.