OKLAHOMA CITY — If the New Orleans Hornets are content with their unexpectedly strong start, coach Byron Scott thinks their three-game losing streak could become much longer.
Paul Pierce scored 28 points and grabbed 12 rebounds, Ricky Davis added 26 points, and the Boston Celtics never trailed in a 101-87 victory over the Hornets on Wednesday night.
The Hornets' third straight loss also snapped their three-game winning streak at Oklahoma City's Ford Center, where they play only twice in their next eight games.
Scott said he asked his players whether they had become happy with where they stood. The Hornets, who didn't win their eighth game last season until Jan. 28, started this season 8-7 before losing three straight.
"If you're satisfied," Scott said he told his team, "then we could go a streak of going 0-10."
"I'm not satisfied," he added. "If we have a bunch of guys in that room satisfied with where we are right now, we're in trouble."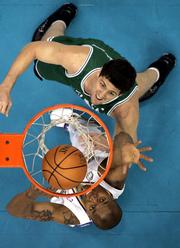 Scott said he thought his team earned some respect with its fast start, and teams were looking at the Hornets differently.
"They're coming out there and playing, and playing hard," Scott said. "Our guys have to make the adjustment and understand that people aren't going to just come in here and underestimate them."
Leading by 11 points at halftime, the Celtics pulled away in the third quarter with an 11-4 run started by Pierce's free throw after a technical foul.
Pierce added two more foul shots, Al Jefferson had a follow shot and a two-handed dunk, and Davis had two free throws before capping the run with a three-pointer from the right wing that gave Boston its largest lead, 79-63.
David West cut the deficit to 83-73 with his jumper to start the fourth quarter, but New Orleans never got closer.
Boston's Mark Blount tied a season high with 19 points off the bench, and Jefferson, another reserve, had 16 points, his highest output of the season.
Jazz 95, Hawks 83
Salt Lake City - Andrei Kirilenko scored 14 points and matched his career high with 10 assists, and Utah ended a four-game home losing streak. Matt Harpring added a season-high 30 points, and reserve Milt Palacio had 10 points and nine assists for the Jazz, who had a 37-29 rebounding advantage and forced 21 turnovers.
Bulls 102, Magic 93
Orlando, Fla. - Jannero Pargo scored a season-high 23 points, and Luol Deng had 22 to help Chicago beat Orlando. Filling in for injured teammate Kirk Hinrich, who sustained a concussion when he took an elbow to the face from Dallas' Dirk Nowitzki on Monday night, Pargo was 9-of-13, including 5-of-8 on three-point attempts.
The Bulls, who snapped a two-game losing streak, put away the game with an 11-1 run after the Magic trimmed an 11-point deficit to 86-82 with just over five minutes to go. The closest Orlando got after that was seven in the final minute. Dwight Howard had 17 points and 16 rebounds for the Magic, who have lost five straight.
Bucks 88, 76ers 85
Philadelphia - Andrew Bogut's go-ahead putback with 10.7 seconds left capped a frantic fourth-quarter rally and led Milwaukee over Philadelphia. Michael Redd scored 24 points, and Maurice Williams sank two clutch free throws in the final minute and scored 16 for the Bucks.
Lakers 102, Raptors 91
Toronto - Lamar Odom scored 19 points, and Los Angeles beat Toronto despite Kobe Bryant's lowest-scoring game of the season. Bryant sat out the fourth quarter and finished with 11 points for the Lakers, who put the game out of reach by outscoring Toronto, 31-18, in the third quarter.
Timberwolves 84, Trail Blazers 74
Portland, Ore. - Kevin Garnett had 16 points and 14 rebounds, and Minnesota erased a 14-point second-half deficit to beat Portland. Wally Szczerbiak scored 19 points and made a key three-pointer late in the game as the Timberwolves won their fourth straight, sweeping a four-game road trip.
Suns 118, Warriors 110
Oakland, Calif. - Steve Nash had 28 points and 14 assists, and Shawn Marion added 27 points and 14 rebounds as Phoenix won its eighth straight game. Raja Bell scored 19 points for the Suns.
Clippers 84, Knicks 79
Los Angeles - Elton Brand had 24 points and 11 rebounds, Cuttino Mobley scored eight of his 24 points in the final two minutes, and Los Angeles beat New York.
Nets 97, Bobcats 84
Charlotte, N.C. - Vince Carter overcame a sore ankle and knee to score 23 points and lead New Jersey over Charlotte. The win was the 1,000th in franchise history for the Nets and improved them to 5-0 against the Bobcats. Charlotte, meanwhile, has dropped five straight.
Spurs 98, Heat 84
San Antonio - Tim Duncan scored 28 points, and Manu Ginobili added 27 to lead Miami. Dwyane Wade scored 31 points, but got little help from the rest of the Heat, who shot 36 percent from the field.
Copyright 2018 The Associated Press. All rights reserved. This material may not be published, broadcast, rewritten or redistributed. We strive to uphold our values for every story published.