Since the city's smoking ban took effect, the air smells cleaner at Royal Crest Lanes, 933 Iowa.
"We lost some bowlers, but we also gained some," manager Mary Sexton said of the ban. "You don't go home smelling like smoke anymore."
Health proponents are hoping tobacco smoke will become rarer still in Douglas County, thanks to a new grant to be used to expand anti-smoking efforts.
During a presentation Wednesday morning, state officials and members of the Douglas County Community Health Improvement Project described how they would use $248,000 in grant money to curb tobacco use. The county was one of five state communities to receive grants.
"This is an exciting opportunity to have a real impact on the health of Kansans," said Roderick Bremby, secretary of the Kansas Department of Health and Environment.
The money will be used to support programs aimed at: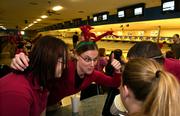 ¢ Providing free assistance to Kansans who want to quit smoking.
¢ Making it more difficult for minors to purchase tobacco.
¢ Making indoor air safer.
¢ Concentrating on groups affected by tobacco use more than others.
Some programs will be launched in county school systems, such as using computer software to show children the effects of smoking on aging, training health care workers to help people quit smoking, the use of multimedia to get anti-tobacco messages to the public and establishing tobacco prevention specialists to work with youths, said Melissa Smith, facilitator for the CHIP special committee on tobacco use.
CHIP was involved with the effort to get the city of Lawrence to pass a smoking ban at public places more than a year ago. Smith and executive director Janelle Martin said that effort would be pushed for the rest of the county.
The funding comes to CHIP from the KDHE Tobacco Use Prevention Program by way of the Centers for Disease Control and Prevention and the American Legacy Foundation. The Kansas Legislature approved spending $1 million on tobacco prevention efforts, allowing the allocation of the money. Kansas Sen. Marci Francisco, D-Lawrence, and Rep. Paul Davis, D-Lawrence, attended Wednesday's event.
Smith and Martin said there would be strategies to measure the effectiveness of the local tobacco prevention effort.
That suited lung specialist Dr. Charles Yockey just fine.
The No. 1 thing a smoker can do to improve health is to stop smoking, he said.
"Over the 35 years I've been doing this I've never had a patient come back and say, 'I'm so sorry I quit smoking,'" Yockey said.
Copyright 2018 The Lawrence Journal-World. All rights reserved. This material may not be published, broadcast, rewritten or redistributed. We strive to uphold our values for every story published.