New York — Michigan State coach Tom Izzo was quick to put himself in the running for the understatements of the young college basketball season.
The 14th-ranked Spartans handed No. 6 Boston College its first loss of the season, 77-70, Tuesday night in the Jimmy V. Classic.
Michigan State shot 77.3 percent (17-for-22) in the second half, and the Spartans, who entered the game shooting 81 percent from the free-throw line, went 15-for-18 from there, including making all eight in the final 1:07 after the Eagles had pulled within 69-67.
"We executed better in the second half than in the first," Izzo said before adding a comment about the foul shots, "we've been a very good free-throw shooting team."
Insight like that is tough to come by.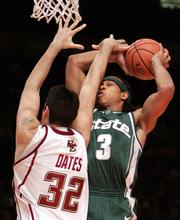 Maurice Ager had 17 of his 22 points in the second half, and Paul Davis scored 14 of his 18 in the second 20 minutes as the Spartans (6-2) improved to 2-1 this season against teams ranked in the Top 10.
Michigan State lost to then-No. 8 Gonzaga in the semifinals of the EA Sports Maui Invitational and beat then-No. 9 Arizona a day later for third place in the eight-team tournament.
"We didn't play great, but we played good enough to win," Izzo said. "This was a step. How big a step? It's too early to tell."
The Spartans were locked in a close one with the Eagles (6-1) until an 18-4 run gave Michigan State a 54-41 lead with 9:45 to play. There were seven lead changes and one tie in the opening 41â2 minutes of the second half. Then freshman Marquise Gray's three-point play gave the Spartans the lead for good, 39-37, and started the big run.
Craig Smith scored 17 points in the first 27 minutes of the game, but with Davis playing strong inside defense, the 6-foot-7 senior forward had just one more point the rest of the way.
No. 4 Villanova 79, Bucknell 60
Lewisburg, Pa. - Allen Ray scored 20 points, and Randy Foye had 28 points and 11 rebounds to lead Villanova past Bucknell. Ray answered two second-half surges with some big shots, including two key three-pointers for Villanova (5-0) after Bucknell closed a 19-point deficit to three. The Wildcats' talented guards proved too quick for Bucknell (5-1).
No. 10 Florida 87, Providence 77
Providence, R.I. - Taurean Green scored 18 points and made four of Florida's nine three-pointers in the victory. Corey Brewer and Al Horford each added 14 points for Florida, which improved to 8-0 and matched the team's best start since it opened 10-0 in 1951.
Northern Iowa 67, No. 12 Iowa 63, OT
Cedar Falls, Iowa - Erik Crawford scored seven of his nine points in overtime, and Eric Coleman finished with 19 points to lead Northern Iowa. Ben Jacobsen added 16 points for the Panthers (5-1), who won their third straight in the UNI-Dome against a nationally ranked Hawkeyes team.
No. 15 Kentucky 73, Georgia State 46
Atlanta - Backup center Shagari Alleyne scored a career-high 16 points, and Kentucky beat Georgia State despite playing without leading scorer Rajon Rondo. The sophomore guard, the team leader in the major offensive categories, was held out because of strep throat.
Indiana State 72, No. 18 Indiana 67
Terre Haute, Ind. - David Moss and Tyson Schnitker combined for 28 of Indiana State's 42 second-half points, and they led the Sycamores to the come-from-behind upset. Moss finished with 19 points and nine rebounds, while Schnitker scored a career-high 19 points, including five three-pointers.
Copyright 2017 The Associated Press. All rights reserved. This material may not be published, broadcast, rewritten or redistributed. We strive to uphold our values for every story published.