It was double the stats, double the overtimes and double the victories for the Seabury Academy basketball teams in their matchups Tuesday with Kansas School for the Deaf.
The girls started off the doubles theme, damaging the Jackrabbits by more than doubling up on the scoreboard with a 40-18 victory.
The Seahawks (3-1) crashed the boards for a 2-to-1 advantage and had a stout defense that forced 30 turnovers.
"We've got some pretty good strong post players," said Seabury senior Laura Hoffmann, who led the aggressive defense with six steals. "They've just got to get it in their head that they are strong enough to get down there."
Seahawks' senior Lindsey Ahlen finished with a double-double, scoring a game-high 14 points and ripping down 11 rebounds.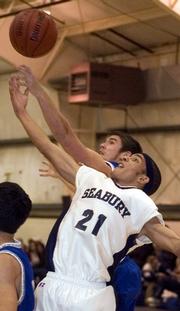 "She's just one of those players that you look to and you've got to count on night in and night out," Seabury coach Nick Taylor said of Ahlen. "There's a couple of other players we depend on a lot, but Lindsey is one of our best players and probably the best player we have on the court right now."
Though Taylor was happy with his team's performance, Ahlen said the team's lack of focus made the game closer than it should have been.
"This was our first home game, and I think that has a lot to do with ... not paying as much attention as we should have," Ahlen said. "What we should be concentrating on is what's on the court and not what's off the court."
The Seabury boys needed double overtime to pull out a 62-60 victory and give the Seahawks two victories on the night.
"Everybody performed really well, and the seniors really stepped up," senior Adam Davis said. "On the defensive end, we had a little falling out a little bit, but then we regrouped and came back. So it was a good closer."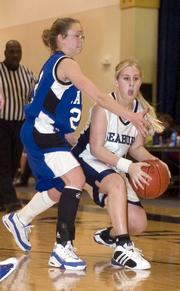 In the boys game, there were double the double-doubles.
Senior Grayson Dillon dominated from the field with a team-high 27 points to accompany his 10 rebounds.
"A lot of my stuff came off of what my teammates got, so I thought we played really well as a team," Dillon said. "I thought we rebounded pretty well ... but I think we could have done a little better, but I also think we fought pretty hard."
Davis tallied 19 points to go with 10 boards from the point guard position.
Davis' most significant points came on free throws in the extra periods. He was 6-for-6 in the overtimes and 8-of-8 for the game.
"I ask Adam to do a lot of things, and I don't know if people recognize and appreciate all of the things that he does," Seabury coach Marcus Heckman said. "Adam probably played over 20 minutes in a man-to-man situation, played point guard against some guards who are very quick defensively, and we also ask him to score the ball.
"Statistically, yes, offensively he had a good game, scoring the ball and rebounding the ball. But I think it was his defensive effort and his getting the offense started, taking care of the ball, keeping our offense poised that I'm most proud of. And those are really the things our team needs."
Copyright 2018 The Lawrence Journal-World. All rights reserved. This material may not be published, broadcast, rewritten or redistributed. We strive to uphold our values for every story published.