Indianapolis — Give the Dallas defense some credit.
The Mavericks contested every shot, dived for every loose ball and turned back every Indiana challenge, pulling away in the closing minutes for an 84-75 victory Tuesday night.
Dirk Nowitzki led Dallas with 31 points and 11 rebounds, while the defense produced season lows by the Pacers, both in scoring and a miserable 34 percent shooting from the field. Both of those were also lows for any Dallas opponent this season.
"Our defense starts with our coach working us at it every day," said the Mavericks' Adrian Griffin, who had a team-high three steals. "I think you separate yourself from the rest of the league on the defensive side of the ball. That's what we were striving for."
The Pacers, playing their first game at home after a five-game trip out west, cut a 14-point Dallas lead to 75-71 with under four minutes remaining.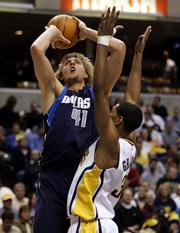 But Griffin, Nowitzki and Marquis Daniels hit consecutive baskets for the Mavericks, and after a basket by Indiana's Ron Artest, Nowitzki put the game out of reach with a three-pointer with 58 seconds remaining. Sarunas Jasikevicius finished the scoring for the Pacers with a pair of free throws.
Cavaliers 102, Kings 97
Sacramento, Calif. - LeBron James scored 11 of his 30 points in the fourth quarter, adding six rebounds and six assists as he carried Cleveland over Sacramento.
Larry Hughes scored 24 points for the Cavaliers, who snapped a nine-game losing streak against the Kings with their first victory in seven trips to Arco Arena since March 19, 1998.
Shareef Abdur-Rahim scored 25 points for the Kings, who lost their fourth straight when they couldn't recover from a dismal first half. Sacramento has lost three straight home games for the first time since April 7-11, 2000.
Nuggets 125, Hawks 116
Denver - Andre Miller had 21 points and 14 assists, and Marcus Camby blocked two key shots in the final 90 seconds to help Denver hold off Atlanta. Carmelo Anthony scored 26 points, Camby had 22 points and 12 rebounds, and Earl Boykins had 20 points in Denver's highest-scoring game of the season. Al Harrington had a season-high 35 points for Atlanta.
The Hawks (2-15) came into the game with the league's worst record and showed up only about an hour before tipoff after getting slowed down by a Rocky Mountain snowstorm.
Knicks 104, Sonics 101
Seattle - Back in his hometown, Jamal Crawford scored all of his season-high 31 points in the second half, and New York rallied past Seattle. Crawford was 8-of-11 from the field and made 11 of 12 free throws in the second half as the Knicks won the opener of a three-game West Coast road trip. Rookie Channing Frye added 18 points, and Stephon Marbury had 16. Nate Robinson, also a Seattle native, added 10.
Suns 130, Blazers 85
Phoenix - James Jones scored 22 points, Raja Bell added 21, and Phoenix extended its winning streak to an NBA-best seven straight. The Suns, who set a season high for points and margin of victory, have held their last nine opponents under 100 points.
The win moved the Suns within a half-game of the first-place in the Pacific Division.
Shawn Marion added 21 points for the Suns. Steve Nash had 14 points and 12 assists.
Wizards 119, Raptors 111, OT
Washington - Jarvis Hayes broke out of a shooting slump with a season-high 21 points, including six in overtime, and Gilbert Arenas scored 16 of his 37 in the final 121â2 minutes to lead Washington over Toronto.
Hayes didn't score in the Wizards' loss to Milwaukee on Friday, and he had gone 7-for-24 from the field in his last five games, but he opened the game with three jumpers and made two more in the extra period. He finished 8-for-15 with a season-high eight rebounds and made two key defensive plays in overtime.
Lakers 111, Bucks 92
Milwaukee - Kobe Bryant scored 33 points to lift Los Angeles to its ninth straight win over Milwaukee. Lamar Odom added 24 points, Smush Parker had 20, and Chris Mihm scored 13 as the Lakers beat the Bucks for the 18th time in the last 20 meetings.
Bryant went 14-of-24 from the field, a game after shooting just 9-of-30 in a sluggish win over the Charlotte Bobcats on Sunday. The Lakers shot 48 percent (43-of-89).
Grizzlies 89, Hornets 73
Memphis, Tenn. - Pau Gasol scored 29 points and grabbed 15 rebounds as Memphis beat New Orleans for its sixth straight victory. Gasol shot 7-of-13 from the field and also hit 15-of-19 free throws, tying a franchise mark for most attempts. He added three blocks.
Rockets 91, Celtics 73
Houston - Tracy McGrady won his matchup with Paul Pierce, and Houston defeated Boston. McGrady tied his season high with 35 points in the Rockets' victory, only Houston's second win in its last 10 games. Pierce, averaging 27 points coming into the game, scored 20 for the Celtics, who have lost three of five. Pierce hit all 13 of his free throws, but went 3-for-10 from the field.
Copyright 2018 The Associated Press. All rights reserved. This material may not be published, broadcast, rewritten or redistributed. We strive to uphold our values for every story published.