New York — Brandon Rush has started at small forward for Kansas University during each of the Jayhawks' seven basketball games this season.
Whether he has done so while eligible is something the NCAA apparently continues to consider.
"Any kid that's involved with the NBA, they will look into. When you are a high-profile player, they are going to check into it," Kansas University athletic director Lew Perkins said Tuesday.
He was responding to ESPN analyst Jay Bilas' short item on ESPN.com indicating the "NCAA is quietly looking into the 'testing of the waters' of Rush calling NBA teams (last summer) and gathering information."
Rush, after completing his second year at Mount Zion Academy, attended the Chicago pre-NBA draft camp and worked out for a handful of NBA teams.
Back in September, after skipping the NBA Draft and enrolling at KU, Rush told reporters his brother Kareem, who plays for the NBA's Charlotte Bobcats, paid for his trips.
Photo Gallery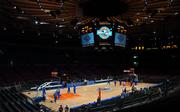 KU vs. St. Joseph's
Tuesday, however, he indicated NBA teams - as they are allowed to do - paid for his travel expenses to the one-on-one workouts and draft camp.
"The teams pay for it," Rush said, indicating NCAA officials spoke to him "a month or month-and-a-half ago. It's straightened out. I hope so."
Bilas wrote that the NCAA's looking into things - apparently whether Rush had an agent or anybody else who represented his interests - put Kansas in a bind.
"The NCAA makes Kansas make a choice. Do the Jayhawks hold Rush out until he can prove himself innocent to the NCAA (thereby punishing Rush for nonexistent wrongdoing) or do they risk the NCAA's wrath by playing Rush when the NCAA is still looking at his status?" Bilas asked in his piece on ESPN.com.
Perkins said KU was in no such bind.
"We asked the NCAA, and they told us to play him : forever," Perkins said. "We don't think there's anything. They don't think there's anything. They have to check into it. We think everything is fine."
Ditto coach Bill Self, who said KU called the NCAA in September asking them to look into Rush's status.
"As soon as we got Brandon, we called the NCAA and asked them to look into that," Self said after Rush had 13 points in KU's 70-67 loss to Saint Joseph's at Madison Square Garden. "I don't think they found anything to my knowledge that warrants a problem."
Self said he told Rush before he joined the KU program that Kansas would "tell the NCAA to take a look. We knew at some point in time he'd have to be looked at because obviously (he considered the draft). It's different in Brandon's situation. High school kids can go and have it paid by the (NBA) team. College kids can't."
Self said he hadn't heard anything finalized (by NCAA).
"With our situation, if they thought there was anything wrong, Brandon wouldn't be playing," Self said. "Based on what we know, they have done a good job of handling the situation," Self said of Rush and his family members, who it's believed did not have representation of an agent with NBA scouts.
Perkins said he didn't know why it took the NCAA so long to look into the eligibility of players who tested the NBA waters during the offseason.
"This has been going on since he came. It's just one of those ongoing things," Perkins said. "If three years from now they find out something, whatever, they'd tell us what we have to do."
The bottom line is, the NCAA, which does not comment on such matters, likely will continue to check into the matter "quietly."
"We've been told the kid can play. There's no issue. We see nothing different coming out of this. If something does, we'll address it then," Perkins said.
Copyright 2018 The Lawrence Journal-World. All rights reserved. This material may not be published, broadcast, rewritten or redistributed. We strive to uphold our values for every story published.