New York — As a spectator, until you see a team do something, you don't believe it will. As a player, is it really that much different?
For the third time in its four losses, Kansas University couldn't cash in on a final possession that could have tied or won all three games.
In Hawaii against Arkansas, Russell Robinson and Jeff Hawkins had their shots blocked. In the home loss to Nevada, C.J. Giles had his shot blocked.
Tuesday night at Madison Square Garden, at least Micah Downs got off his shot, a hotly contested three-pointer that drew rim in a 70-67 loss to St. Joseph's in the Jimmy V. Classic.
I suppose you could call that progress, though certainly not the kind anyone is seeking from the young Jayhawks (3-4 for the first time since 1971-72), whose best victory came against, get this, Idaho State.
"I think rough season's a bit of a stretch," KU coach Bill Self corrected someone. "It's been a rough three-week stretch."
At times, worse than rough. At times, ugly.
Photo Gallery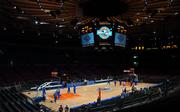 KU vs. St. Joseph's
Strike 1: In a combined 45 minutes, Giles and Sasha Kaun totaled nine points, four rebounds, three turnovers and did not block a shot.
Strike 2: KU again failed to defend the perimeter, and St. Joe's made 10 of 21 three-pointers, including six of seven from Chet Stachitas (27 points).
Strike 3: Other than Julian Wright (five of six from the line), the Jayhawks made one of 13 free-throw attempts.
Long after the specific numbers are forgotten, a number of disturbing images will endure. Such as: Hawkins, on consecutive possessions leaving Stachitas to help out on a driving player, only to see that player rifle a pass to Stachitas for predictable three-pointers; Downs, who needs to play more than Tuesday night's 18 minutes for this team to start winning games, switching off Stachitas and nobody switching onto him; Brandon Rush scoring 10 points in the opening six minutes and three points the rest of the way.
A hot hand must be fed to stay hot. Rush wasn't fed.
Listening to St. Joe's coach Phil Martelli talk about how much this victory meant to his players, none of whom were recruited by a Kansas-caliber program, the thought occurred: When so many players have ultimate basketball goals that extend beyond college basketball, does winning mean as much to them as to the kids whose riches come in the form of memories they share years later with college teammates?
"I think that it's really important that players have experiences in their time playing college basketball," Martelli said. "It looks all glamorous, but these kids give up Thanksgiving, Christmas break, and if you are good, they give up spring break. So to me, it's about experiences."
It meant so much to the coach and the players.
"To have a chance to play on a big stage, in New York, a nationally televised game and against as storied a program as there is in college basketball, in Kansas, it was a special night for these kids to have an opportunity to compete," he said.
Does a room full of McDonald's All-Americans make a team? In the case of KU, the answer is not yet. KU's first starting lineup went 3-4. Mario Chalmers, Rush, Downs, Wright and Kaun have gone 0-0. Time to see what those five can do.
Copyright 2018 The Lawrence Journal-World. All rights reserved. This material may not be published, broadcast, rewritten or redistributed. We strive to uphold our values for every story published.