Coming off a preseason tournament title, the fourth- and fifth-grade Horned Frogs looked to continue their winning ways against the Ducks.
After a week without practice, both teams came out of the gate slowly.
"Everything was dead early on," said Horned Frog head coach Keith Loneker. "The kids hadn't had practice for a while, there weren't many fans at first and it was quiet."
However, the Horned Frogs were able to shake off the rust and defeat the Ducks 22-12 Nov. 29 at the East Lawrence Center.
The first half was marked with scrappy defense. Both teams used a swarming defense to hold one another deadlocked at eight during the half.
Early on, the Ducks jumped to a quick lead. They looked to establish a presence down low with big man Dayton Valentine. Using his size and quick feet, Valentine was able to open the scoring for the Ducks.
On the perimeter, point guard Lucas Werner led the Ducks. Werner's speed and outside shot kept the Horned Frogs busy all evening. Werner kept the Horned Frog defense honest with his ability to both attack the basket and pull back and hit the 15-footer.
Despite the strong play of Valentine and Werner, the Horned Frogs' offense was able to catch fire in the second half and distance themselves from the Ducks.
The Horned Frogs relied on their leader, Bryce Montes de Oca, to help them in their preseason success. Montes de Oca used his size to attack the boards and slow the slashing Duck attack. Montes de Oca solidified the win for the Horned Frogs, recording eight rebounds on the night.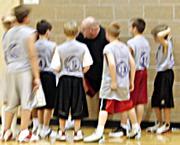 With a force down low, Chris Allen and Keith Loneker Jr. took advantage of the open spacing along the perimeter. Loneker Jr. was an assist machine as he was able to efficiently run the offense and find the open man. Fortunately Allen found himself on the other end of those passes, connecting on several jumpers.
With the offense running on all cylinders, the Horned Frogs sealed the win with the play of defensive specialist Miles Stevens. Stevens was able to intercept several Duck passes and jumpstart the offense with breakaway lay-ups.
Copyright 2018 The Lawrence Journal-World. All rights reserved. This material may not be published, broadcast, rewritten or redistributed. We strive to uphold our values for every story published.