This time of the year, Maria Martin is often on the defensive.
As a diehard defender of the fruitcake, she finds herself standing up for the dessert.
Fruitcakes can be delicious when they're chock-full of nuts, dates, cherries and other fruit. But they're more legendary for their reputation for being re-gifted, being stored for years in cupboards or being used as a paperweight or doorstop.
"Fruitcake has gotten a bad name, with the jokes that are out there," Martin says.
Ah, the jokes.
Why does fruitcake make such a great gift? Because the post office hasn't found a way to damage it.
Most popular things to do with a fruitcake: Give one to your boss and tell him it's a life preserver. Fend off attackers. Use it as a speed bump.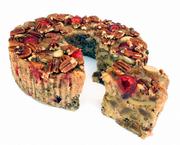 Why is history like a fruitcake? Because it's full of dates.
Jay Leno has the "Fruitcake Lady," who started on the show to promote her recipe book but now gives wacky advice on a variety of viewer-submitted questions. She's so eccentric that she, too, might be considered a fruitcake.
In 2003, members of the International Federation of Competitive Eating descended on Buffalo, N.Y., to eat as many fruitcakes as they could. A counter effort, the Fruitcake Amnesty Campaign, formed to save the fruity and nutty desserts.
There's a Society for the Protection and Preservation of Fruitcake, a non-member organization represented by a lone Web site.
And this year, Cold Stone Creamery, 647 Mass., is offering a $5 discount off ice cream cakes to anyone who brings in a fruitcake. It's called the Fruitcake Freedom initiative.
All of this - and more - gives Martin an uphill battle in defending the delicacy.
She's tied to fruitcakes by marriage. Her husband Don's grandfather owned Drake's Bakery on Massachusetts Street for 30 years starting in 1928. The bakery gained local fame for its fruitcakes, and many Lawrence families sent holiday care packages containing fruitcakes to World War II soldiers.
The Martins put the fruitcake back on the market in 1995 for several years, selling the dessert through a handful of downtown shops. They stopped a couple of years ago because the low-carb diet craze hurt their sales.
"There always is a loyal following from people who appreciate a good fruitcake," Martin says.
Individual fruitcakes vary with their ingredients. Some use a citron flavoring that give them an artificially fruity flavor and hue. Other possibilities include pineapple, dates, cherries, raisins, currants and pecans.
And they all have a lot of butter and sugar.
"It's not that tough to make," Martin says, "but it's labor-intensive in terms of doing a lot of it by hand. The nuts you want chopped but not in small pieces, so you're breaking them literally by hand. There's a lot of hand-mixing and a lot of hand-packing it into pans. It's labor-intensive but fun."
Martin admits she got caught up in the fruitcake stigma until she started making it and eating it herself.
But at least part of the reputation is deserved, she says. Fruitcake really does keep for a long time.
"Ours has a shelf life of at least nine months," she says. "The refrigerator doesn't dry them out if you pack it tight. We've done tests where we kept it in the refrigerator. When we did blind testing, took it out and cut it, it never really changed. It still tasted like the same fresh-baked fruitcake."
Fruitcake
1/2 cup butter
1/2 cup lard
1 heaping cup brown sugar
4 eggs
1 1/4 cups whole wheat flour
1 1/4 cups self-rising flour
1 teaspoon baking powder
1/4 teaspoon nutmeg
1 tablespoon molasses
2 pounds mixed candied fruit
1 lemon, zested
1 orange, zested and juiced
1/4 cup sherry
1 tablespoon brandy
1 tablespoon milk
In a mixing bowl with a paddle attachment, cream the butter and lard together. Add the sugar and continue creaming. Add the eggs gradually and mix until well-incorporated. Add each ingredient one at a time and blend in. Turn batter out into a loaf pan lined with parchment paper. Bake 1 hour and 30 minutes, then reduce the heat to 300 degrees and bake an additional 1 hour and 15 minutes.
Let cool in the pan. Wrap in plastic and let mature a few days. If you like, you can dip it or baste it with brandy, wrap it in cheesecloth, and store in a cool place for months.
Source: www.foodnetwork.com
Cherry-Almond Fruitcake
1/2 cup raisins
2 tablespoons sweet sherry
1/3 cup butter
1/2 cup sugar
3 eggs, separated
1/2 teaspoon almond extract
1/2 cup candied cherries, quartered
1 1/4 cups ground almonds
Extra sweet sherry, if desired
Preheat the oven to 325 degrees . Grease an 8-by-4-inch loaf pan and line the bottom with parchment or wax paper. Place the raisins and sherry in a small saucepan and heat gently for 5 minutes so the raisins will absorb the sherry. Remove from heat and stir in the cherries and 3 tablespoons of ground almonds. Set aside. In a separate bowl, cream the butter and sugar until fluffy. Beat in the egg yolks and almond extract, and stir in the remaining ground almonds. Fold in the raisins and cherries.
Beat the egg whites until they form stiff peaks and fold gently into the cherry batter with a large metal spoon. Pour into the prepared pan and bake for about 1 hour, or until a skewer inserted in the middle comes out clean. Cool in the loaf pan. If desired, turn over the cooled cake, poke a few holes in the bottom, and drizzle it with a few tablespoons of sweet sherry. Store in an airtight container for up to 2 weeks.
Source: www.foodnetwork.com
Fruitcake
10 ounces butter, softened
10 ounces soft dark brown sugar
1 tablespoon molasses
6 large eggs, plus 1 to 2 more as needed
12 ounces all-purpose flour
1-pound currants
8 ounces sultanas
8 ounces raisins
4 ounces candied cherries, quartered
4 ounces ground almonds
3 ounces chopped mixed candied orange and lemon peel
1 teaspoon ground ginger
1 teaspoon ground allspice
4 tablespoons brandy
Line a 9-inch round cake pan with parchment paper and set aside. Position the oven rack to just below the center of the oven so that when the cake is in the oven it will be central. Preheat the oven to 300 degrees. In the bowl of an electric mixer, cream together the butter, sugar and molasses until the mixture is light and fluffy and pale in color. Beat in the eggs, one at a time, adding 1 tablespoon of flour along with each egg, to help prevent the mixture from curdling. Add 6 eggs and then check the consistency of the batter; it should be a "dropping" consistency, which means that if you lift a spoonful of the mixture out of the bowl and turn the spoon over, the mixture should drop off the spoon in 2 to 3 seconds. Add more eggs, one at a time, until the batter reaches a "dropping" consistency.
In a separate large bowl, mix the remaining flour with all of the remaining ingredients, except the brandy. Add the flour mixture to the creamed mixture and beat until just incorporated. Spoon batter into the prepared cake tin and level the surface. Bake in the center of the oven for 3 to 3 1/2 hours. As cooking times can vary considerably in different ovens, check the cake regularly, covering the top with a sheet of parchment if the cake starts to brown too quickly; begin checking for doneness after 1 1/2 hours. To test if the cake is cooked, insert a skewer and then remove it; if it comes out clean then the cake is cooked; otherwise bake for a little longer. Also listen to the cake; if you can still hear it bubbling then it isn't cooked through.
Remove the cake from the oven and let it cool in the pan for about 30 minutes. Then spoon the brandy on top. Set aside until completely cooled. Remove the cake from the pan and then wrap it in parchment paper and aluminum foil before storing it in a cool, dry place.
The cake may be eaten immediately, but is best left about a month before decorating so that it has time to "mature."
Source: www.foodnetwork.com
Copyright 2018 The Lawrence Journal-World. All rights reserved. This material may not be published, broadcast, rewritten or redistributed. We strive to uphold our values for every story published.