New York — Diana Krall made sure she didn't overthink her "Christmas Songs" album. She just wanted to have fun.
So she lit candles, decorated a tree at a Los Angeles studio and invited the Clayton-Hamilton Jazz Orchestra - in June.
The vibe paid off on this brassy collection of standards likely to find its way into CD players when friends and family gather for holiday parties.
"I wanted to make a happy record," she told The Associated Press. "I wanted to make a record that people would put on and they would all know. It's familiar. It's swinging, really swinging."
Krall joins Anita Baker and Brian Wilson among the prominent artists releasing new holiday discs this season. On completely opposite ends of the spectrum, Martha Stewart and gross-out film director John Waters curate their own holiday compilations. The U.S. Postal Service even gets into the spirit, selling a "Dear Santa" CD compilation next to the stamps.
Some artists who create holiday discs make it difficult on themselves. They hunt for obscure material. They try to write new songs in a genre that has an extraordinarily high failure rate. They try to revise familiar melodies or use trendy production techniques that are like date-stamping a particular recording.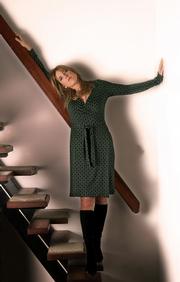 Krall's guidelines were relatively simple. She stuck to American popular standards composers, time-tested melodies like "White Christmas," "Santa Claus is Coming to Town" and "Have Yourself a Merry Little Christmas." She stayed away from religious material.
And she avoided the novelty stuff, recognizing the world doesn't need another "Santa Baby."
The disc is completely traditional, save for the Vancouver area resident's sly rewrite of "Winter Wonderland" to urge "frolic and play, the Canadian way."
"Christmas for me is all about coming home," she said. "I've been on the road for so many years, so Christmas has always meant coming home and seeing my family and friends and gathering together and singing together and cooking together and drinking wine together - whatever. Just celebrating and reflecting on the past year. I always looked forward to it."
Krall tries to set a cutoff date of about Dec. 10 in her schedule so she has this family time, although that doesn't always work.
Two of the lesser-known songs on her disc are the melancholy "What Are You Doing New Year's Eve" and "Count Your Blessings Instead of Sheep." The latter she sees as a lullaby for troubled times. She was always enchanted by a version done by Rosemary Clooney, one of three women to whom she dedicates the disc for teaching her the joy of Christmas, along with her late mother and grandmother.
Clooney's music is something she always turns to around the holidays, along with Ella Fitzgerald and Frank Sinatra. Her version of "Let it Snow" is a tribute to Duke Ellington.
Adding to her feeling of comfort on "Christmas Songs" was the Clayton-Hamilton orchestra. She has a long history with the group.
"I told them, 'Don't feel like you're making a Christmas record,"' she said. "'Just make it a jazz record that happens to have Christmas standards."'
Copyright 2018 The Associated Press. All rights reserved. This material may not be published, broadcast, rewritten or redistributed. We strive to uphold our values for every story published.