The fifth- and sixth-grade Burnt Marshmallows used a team concept by having seven different players score to help beat Team 3 Saturday at the Lawrence Community Building.
Keith Loneker, Burnt Marshmallows coach, said the team showed off exactly what the coaches have been instilling during their weekly practices
"I thought they played good because they shared the ball well and ran the court well," Loneker said. "The whole team really tried to do the things that we teach them all the time in practice."
Burnt Marshmallows shooting guard Lynn Robinson led the team in scoring with a game-high 10 points. Robinson, the quickest player on the court, used her quickness to drive the lane for lay ups. She balanced her aggressive offensive play toward the hoop with a soft midrange jump shot to keep the defenders off guard. Robinson was persistent on the defensive side of the court, which helped create scoring chances for her teammates.
One teammate that got the job done in the scoring column was point guard Nicole Humphrey. Humphrey penetrated the defense by driving the baseline to the basket. She ran the give-and-go by dishing the ball off at the top of the key and then slashing through the lane to the rim to get wide-open shots. She also controlled the tempo of the game. Humphrey did not need to score to have an impact while on the floor; she could set up the offense to let other players get involved in the action.
Loneker said he wasn't too concerned about the how the girls played or the outcome of the game.
"All we want them to do is to keep getting better and hope that some of the confidence and some of the things that they do on the basketball court will carry over into their lives and give them confidence to make good decisions," Loneker said.
Molly Morgan certainly made good decisions on the basketball court. She used her court vision to set up teammates on cross-court passes. She also used awareness of defensive pressure while playing point guard to find open teammates when her opponents smothered her.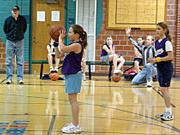 With the solid performances by Robinson, Humphrey, Morgan and the rest of the Burnt Marshmallows, Loneker said the team would hopefully compete in tournaments later in the season.
"We are hoping to put them into some tournaments," Loneker said. "They're playing well and we're coaching them so they're learning from coaching and becoming better players."
Postseason play might not be too far-fetched for a team that had six girls score at least four points in a 32-minute basketball game.
Copyright 2018 The Lawrence Journal-World. All rights reserved. This material may not be published, broadcast, rewritten or redistributed. We strive to uphold our values for every story published.