The Lawrence Aquahawks jumped back into the pool Saturday and Sunday at the Lawrence Indoor Aquatic Center for the Level II Championships.
Aquahawks coaching members said this meet served a couple of different purposes in terms of swimmers development.
"It's a meet to judge where we are with these kids," said Aquahawks coach Mike Soderling. "They're concentrating a lot on stroke technique and on doing things legally. Things like two-hand touches on certain swims and doing the flip turns right."
The approach that each swimmer takes into a meet is different as well. Some might try to work on individual areas of their technique that they think are deficient while others might simply try to swim faster.
"It's not always about paying attention to winning your event," Soderling said. "Since only one person can win, the great thing about swimming is that everyone can improve his or her personal best time."
Another great thing about this sport is that swimmers can try to win their event, or they can qualify for additional meets later in the season. That was the case at the Level II Championships.
The kids had the opportunity to qualify for a swim meet in Wichita that takes place this weekend. It also gives the swimmers a good idea of how far they have come since the beginning of the season.
"We're about halfway through this season, and the kids have worked hard for the last three months," said Scott Bliss, another Aquahawks coach. "This will be an excellent indicator of how far they've progressed throughout this season, and it gives a little insight into what they'll be able to do later on."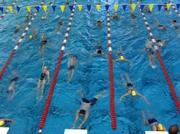 Bliss said a lot of the work that's gone into the kid was small compared to the outcome of their work.
"We've worked on little things that add up to mean a lot," Bliss said "We've worked on turns, starts, finishes and kicks, and these are the things that we really need to think about during the race."
However, getting the kids to remember during the race all the work they have done in practices is easier said than done.
"And sometimes that's a hard perspective to keep, because they are younger and they want to get out and race," Bliss said. "We want them to be able to relax and race, but at the same time make good decisions in that race."
Copyright 2018 The Lawrence Journal-World. All rights reserved. This material may not be published, broadcast, rewritten or redistributed. We strive to uphold our values for every story published.