C. Ernst Harth learned a lot about Lowell Lee Andrews when he read the Nov. 28 Journal-World story about the Kansas University student who murdered his family in 1958.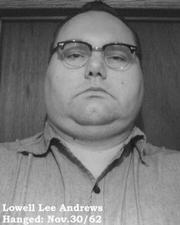 He's only sorry he didn't have a chance to read it before he played Andrews in the movie "Capote," which stars Philip Seymour Hoffman as Truman Capote, the author of "In Cold Blood."
"I had done as much research on Lowell as I could, but I hadn't even seen (his) photo," Harth wrote in an e-mail to Journal-World reporter Mike Belt a few days after the story appeared. He also said that he only knew "a fraction" of what was in the Journal-World article.
Harth said there were several scenes in "Capote" involving Andrews that were cut out.
"Oh well, it was called 'Capote' after all, not 'Andrews.' Now there's a film I'd like to see."
Harth has appeared in movies such as "Dreamcatcher" and "The Barber" as well as television the shows "Dead Like Me," "The Outer Limits" and "X-Files."
Copyright 2018 The Lawrence Journal-World. All rights reserved. This material may not be published, broadcast, rewritten or redistributed. We strive to uphold our values for every story published.