Kansas University's football team ranked 47 out of 56 for its academic progress when compared with other teams headed to bowl games.
KU officials say the report does not include the most up-to-date information and maintain the university is making strides to improve the academic performance and graduation rates of athletes.
"We pledged that we will improve year to year," KU associate athletic director Jim Marchiony said. "That's still what our goal is."
The KU football team, which will play in Fort Worth Bowl on Dec. 23, appeared in a report released Monday authored by Richard Lapchick, director of the Institute for Diversity and Ethics in Sport at the University of Central Florida.
The report looked at graduation and academic progress rates, a measurement devised by the NCAA and based on the number of student-athletes who meet eligibility standards and remain with their institution. The NCAA sets the bar for progress rates at 925. Teams that don't meet the standards could lose scholarships.
But the measures are new.
"It's going to take us and others time to get used to them," Marchiony said.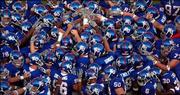 KU received an academic progress score of 899 on Lapchick's report. The report also said KU's graduation rate for football players was 46 percent. African-American football players at KU had a graduation rate of 34 percent, while white football players had a graduation rate of 64 percent. This compared with a 64 percent graduation rate for all student-athletes and a 57 percent graduation rate for all students.
Houston -- KU's opponent in the Fort Worth Bowl -- scored 893.
Marchiony said the report's information was dated and the most recent figures indicate the graduation rate for KU football players is 56 percent and the APR also is higher.
Lapchick said his report used the most recent information available from the NCAA. The researcher said he was glad to see academic progress rated by the collegiate sports governing body.
"It provides sanctions that I think are going to move schools to make sure the resources are there for students to have better academic support," he said.
Marchiony said since Lew Perkins arrived at KU, the athletic director had added four full-time academic advisers, doubled the budget for tutors to $240,000 and added a life-skills position in the student support area.
"That tells you how serious we are about paying attention to the APR and the graduation rates and doing whatever we can to make sure that we have the best rates we possibly can," Marchiony said.
KU officials will know more in upcoming months how their rating affects scholarships.
Paul Buskirk, associate athletic director for student support, said there is an appeal process. And the new system is making waves, he said.
"It's certainly heightened the awareness of every coach in this country about the importance of academics," he said. "It's a high bar. There's no question."
Here's a look at how other bowl-bound Big 12 Conference football teams stack up in an analysis of graduation and academic progress rates. ¢ Iowa State, 938. ¢ Colorado, 936. ¢ Texas, 934. ¢ Nebraska, 929. ¢ Oklahoma, 929. ¢ Texas Tech, 919. ¢ Missouri, 907. ¢ Kansas, 899. Houston, KU's opponent in the Fort Worth Bowl, received a 893. The team receiving the highest score is Navy, at 992. The lowest-rated team is Toledo, at 864.
Copyright 2018 The Lawrence Journal-World. All rights reserved. This material may not be published, broadcast, rewritten or redistributed. We strive to uphold our values for every story published.