Chicago — Rasheed Wallace had the anger. He also had the focus.
That concoction added up to a dominant performance Saturday night, with the volatile Wallace scoring 26 points to lead the Detroit Pistons to their fourth straight victory, 92-79, over the Chicago Bulls.
Wallace yelled at the officials, picked up a technical - which he has been known to do from time to time. But he never lost his focus.
"He just makes the opponent look silly to me," forward Antonio McDyess said. "When he gets going like that, it's hard to stop him. We just love to see him when he gets going like that. Just give him the ball and move out of his way."
Down 15 in the second quarter, the Pistons tied it at halftime and blew out the Bulls 27-10 in the third.
One night after scoring 40 points to lead the Pistons to a 106-98 home victory over the New York Knicks and former coach Larry Brown, Detroit's Richard Hamilton had 10 points on 4-of-13 shooting. But his teammates compensated.
Tayshaun Prince and Chauncey Billups scored 17 points apiece, with Billups contributing 11 during the third quarter. He added 11 assists.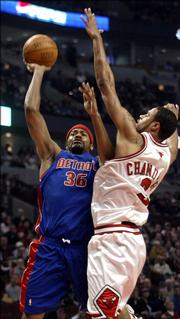 Wallace was 8-of-15, 4-for-6 on three-pointers, and had two steals and five rebounds. He walked onto the court with a chip on his shoulder after scoring three points against New York, and took it out on the Bulls.
"I had to - especially after that performance last night," Wallace said. "I was terrible. I had to come out here and just play. But we got down. They came out smoking in the first quarter. But I knew we would (slow them) down."
Nuggets 101, Heat 99
Denver - Carmelo Anthony scored 23 points, and Earl Boykins hit a three-pointer with 17 seconds left to lift Denver. James Posey's three-pointer banged off the rim with five seconds left, and the Nuggets appeared to dribble out the clock, but a video review showed Antoine Walker committed a foul with a second left. After several minutes, the Nuggets inbounded to Boykins, and the Heat failed to foul before the buzzer sounded.
Spurs 100, 76ers 91
San Antonio - Tony Parker scored 20 points, and Brent Barry hit four three-pointers in the second half to lead San Antonio. The Spurs, down three at halftime, took control in the third quarter. They made 13 of 22 shots (59 percent) and scored 31 points, while holding Philadelphia to 18 points on 4-for-15 shooting (27 percent). After a pair of free throws by Andre Iguodala tied the score at 55, San Antonio went on a 17-3 run.
Mavericks 97, Hornets 88
Dallas - Dirk Nowitzki scored 16 of his 30 points in the fourth quarter to break out of a shooting slump, and Dallas beat New Orleans for the 15th straight time. Nowitzki, who scored a season-low 14 points Thursday night against San Antonio, scored 10 consecutive points to help Dallas pull away after New Orleans crept within three early in the fourth.
Bucks 104, Magic 84
Milwaukee - Michael Redd scored 30 points, and Dan Gadzuric added a season-high 16 to help Milwaukee beat Orlando. Redd had 17 second-half points and finished with five assists and three rebounds for the Bucks, who shot 56.6 percent (43-for-76) from the field.
Grizzlies 90, Rockets 75
Houston - Damon Stoudamire scored 24 points, and Memphis hit a franchise-record 15 three-pointers. Memphis, which has won five straight games, was 15-of-32 from three-point range to break the team record of 13 set against Milwaukee last January.
Clippers 102, Cavaliers 90
Los Angeles - Elton Brand had 30 points and nine rebounds, Corey Maggette scored 24 points, and Chris Kaman had a career-high 19 rebounds.
Raptors 95, Nets 82
East Rutherford, N.J. - Chris Bosh scored a season-high 29 points, and Morris Peterson added 24 to lead Toronto to its third win of the season.
Copyright 2018 The Associated Press. All rights reserved. This material may not be published, broadcast, rewritten or redistributed. We strive to uphold our values for every story published.