It's safe to say Harry Hester wasn't overwhelmed by the prospect of becoming the new head football coach at McLouth High three years ago.
"Originally, I was just going to come interview for the experience," Hester said. "I kind of declined (the job offer) at first, and they kind of talked me into it.
"I saw the scores, and I got the videotapes, and it was pretty bad."
It didn't get any better in 2003, when the Bulldogs finished 0-9 in Hester's first season - their second straight winless campaign. However, signs of progress emerged in 2004, when McLouth finished 4-5 and came within a missed field goal of advancing to the Class 3A state playoffs.
In 2005, it all finally came together. Thanks to a dominating running game and a stout defense, the Bulldogs ran the table in the regular season to win the Delaware Valley League title and earned their first postseason victory in 25 years before falling to eventual state runner-up Silver Lake in the state quarterfinals.
With it came a number of accolades and honors, including Hester's selection as the 2005 All-Area Football Coach of the Year.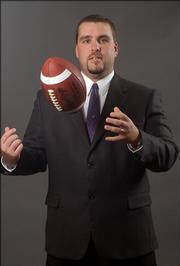 "It's not so much me. It's our assistant coaches and definitely our players," Hester said about the two-year turnaround. "I tell the kids any individual awards we get are definitely the result of our team."
Asked if he could pinpoint a specific reason for the steep climb from doldrums to domination, Hester opted for confidence and self-esteem.
"I'm a firm believer in, 'Success breeds success,'" Hester said. "We took the little successes that we had : any positive that we could find, success stories, and we magnified that."
And now, McLouth - transformed from a football backwater to a town full of purple-clad fanatics - isn't such a bad place to be.
"It is very special," Hester said about crafting a winner for the school's long-suffering fans. "They've seen some down years in recent history.
"They got behind us and really supported us."
Copyright 2018 The Lawrence Journal-World. All rights reserved. This material may not be published, broadcast, rewritten or redistributed. We strive to uphold our values for every story published.