Don't ask Erica Hallman for a clever answer about her torrid three-point shooting.
"There's no secret," said Hallman, Kansas University's senior basketball guard. "I practice it every day."
Hallman hit four of seven treys and posted a game-high 20 points as the Jayhawks swamped overmatched New Orleans, 100-50, Saturday in Allen Fieldhouse.
Hallman has made 14 of 24 three-pointers this season. That's an equatorial 58.3 percent. Meanwhile, she has taken only 12 two-point shots, making five.
Although Hallman vows she isn't doing it with mirrors, KU coach Bonnie Henrickson thinks perhaps it's her pregame naps.
Prior to Friday night's 72-50 victory over Birmingham Southern and before Saturday's triumph, Henrickson said she found Hallman napping in the locker room before each pregame meal.
Photo Gallery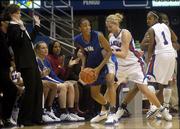 KU vs. New Orleans 12-03-05
"I'm superstitious," Henrickson quipped. "I wanted her to do that all the time now."
At the same time, Henrickson hopes the Jayhawks can play all the time like they did Saturday. The second-year KU coach was not a happy woman after Friday night's desultory victory over Birmingham Southern, another overmatched mid-major.
"I'm more pleased with how we won today than we did yesterday," Henrickson said. "UNO has athleticism at some positions who are as good as anyone we've played."
The KU coach was referring to a couple of the Privateers' frontcourt players. UNO, a team that finished 2-26 last year and has no juniors or seniors on its roster, was woeful in the backcourt, committing 29 turnovers.
KU, by way of contrast, tied a school record by being charged with just six turnovers.
All in all, Henrickson was more focused with how well her team played than how woeful the Privateers were.
"I think we're capable of playing this way no matter what or no matter who," she said.
With a little more than eight minutes remaining, Kansas had scored 90 points and appeared well on its way to 100. Yet it took two free throws by Shaquina Mosley with seven seconds left to hit the century mark.
Nevertheless, Henrickson wasn't about to complain about receiving 37 points - including 12 from freshman Marija Zinic - and 14 rebounds from her non-starters. All five starters scored in double figures, and no starter played more than 23 minutes.
Hallman, for one, was loving it. She rarely had any bench time last year, leading the Big 12 Conference in minutes played with more than 37 a game.
"I'd rather be on the floor," Hallman said, "but if we're up like we were today, I'll be cheering."
Kansas scored 100 points for the first time since a 116-34 romp over Mississippi Valley State in December of 2000. Last season's high-water mark was 84 against Dartmouth.
"Last year I don't think we had the depth to (score 100)," sophomore forward Taylor McIntosh said.
Believe it or not, Kansas fell into a 9-3 hole early, then ran off 15 straight points and rolled to a 58-27 intermission bulge that was punctuated by Sharita Smith's midcourt launch at the buzzer that banked into the net.
"We started off a little bit slow," Hallman said, "but we picked it up. Today, we finally took care of business."
Next business for the Jayhawks is UMKC. Kansas (5-0) will play host to the Kangaroos at 7 p.m. Wednesday.
Copyright 2018 The Lawrence Journal-World. All rights reserved. This material may not be published, broadcast, rewritten or redistributed. We strive to uphold our values for every story published.