At what point during a Kansas University career that is in its fourth year did former Lawrence High standout Stephen Vinson realize he would get to the point he would play meaningful minutes?
Vinson paused when asked the question.
"That's a great question," Vinson said. "Maybe tonight."
Vinson, on scholarship this year for the first time, had a career night. He set career-highs in minutes (17) and assists (four) and tied career-highs in rebounds (two), points (five), free throws (two) and free-throw attempts (five).
Why did KU coach Bill Self go to Vinson so early and give him so many minutes?
"We've talked a lot as a staff on what our team needs," Self said. "Our team needs a tough mind-set, leadership, and somebody to be vocal, and those are three things he does better than anybody on our team."
That doesn't mean Vinson has earned a permanent spot in Self's rotation.
Photo Gallery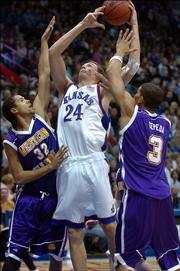 KU vs. Western Illinois 12-03-05
"I don't know how much he's going to play in the future," Self said. "Don't read into this too much, but don't be surprised if he becomes part of the equation because he brings some things to the table the young guys haven't yet."
Vinson brought energy Saturday night.
During a 12-0 run early in the second half, Vinson fed Micah Downs and Mario Chalmers for three-point shots.
In the first half, Vinson hit an open three and fed Christian Moody for a bucket during a 7-0 run that made KU's lead 26-11.
"I've always felt that I've had the respect of my teammates in practice or in pickup games," Vinson said. "I always had it in my mind that I could do it, and I always had the confidence in my game. At the same time, playing with the players I've been lucky enough to play with, you don't always know when that chance is going to come."
The talent that keeps him from playing, also makes him better.
"I came to college probably an average defender, and if I had a strength now it would probably be defense because there have been days in my career I've been on the red team and we've played 31â2 hours of defense all the way through," Vinson said. "And doing that for four years, if I haven't gotten a little better defensively, then I haven't been doing anything. My freshman year, I guarded Kirk (Hinrich), which was an experience, and then I get to guard Aaron (Miles) and Keith (Langford) and those two guys are pretty awesome players as well. There's no doubt those guys have helped me out a lot."
Copyright 2018 The Lawrence Journal-World. All rights reserved. This material may not be published, broadcast, rewritten or redistributed. We strive to uphold our values for every story published.