Simple messages of love, loyalty and faith embody Hans Christian Andersen's tale "The Snow Queen," dramatized this weekend by University Theatre. Adapted and directed by visiting director Romualdas Viksraitis, "The Snow Queen" has familiar fairy tale motifs: a character who sets out on a long journey, talking animals, evil fairies, and quirky, goodhearted characters, assisting the traveler on her journey.
Viksraitis, visiting from Vilnius, Lithuania, has given the traditional story an Eastern European feel. In fact, he directed a version of "The Snow Queen" for Lithuanian National Radio just before arriving in Lawrence and brought some of the ideas developed there to the Kansas University production.
"The Snow Queen" reveals the power of a tale as an Author tells the story to some students, who become the characters, acting out each scene under the Author's guidance. The Author (Travis Lechtenberg) and the Troll (Matthew Crooks) lead the audience through the story, and Crooks' energetic Troll bounces with seeming ease over the stage as he plays comic relief to Lechtenberg's thoughtful tale spinner.
The story begins with the Troll creating a mirror that makes everything in the world look bad. When the mirror breaks, its tiny pieces fly all over the world, infecting people with the mirror's pessimism. A piece of the mirror lodges in the eye of Kay (Robbie Gordy), who enjoys playing with his friend Gerda (Cassidi Kay Stuckman), growing roses and having fun. When another piece of the mirror pierces his heart and turns it to ice, he comes under the influence of the Snow Queen (Alicia Gian), who carries him off to her ice castle in the North. There he becomes obsessed with math and science and always thinking logically, losing his sense of wonder in the world.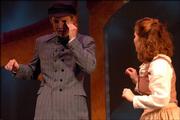 Distraught, Gerda sets off to find him. On her way, she encounters a witch (Lavinia Roberts), who casts a spell on her; a robber woman (Jennifer Faust), who tries to eat her; and a Lapland Woman (also Roberts), who sends her on with a message on a piece of dried fish. Stuckman easily tunes in to the plucky Gerda's wide-eyed innocence and continues her journey.
Gerda also meets several talking and helpful animals, like a reindeer, comically played by Ben Cook, and Mr. and Mrs. Crow played by Jon Matteson and Faust, who artfully capture crow behavior.
After finding Kay in the Snow Queen's castle, Gerda cries hot tears onto his chest, melting away the coldness of his heart. She helps him remember how to have faith again, warming his heart with the simple joy in living.
Viksraitis, scenic designer Anna Wieczorek and lighting designer Tim Boeshaar have created a fascinating set of moveable pieces, enhanced by a screen of projected images of swirling snow and sleighs. Kelly Vogel's costumes are splendidly detailed, colorful and very clever. With sound design by Lina Dainiene and choreography by John Staniunas, "The Snow Queen" transports its audience to a magical place where the power of human love still has dominion.
Copyright 2018 The Lawrence Journal-World. All rights reserved. This material may not be published, broadcast, rewritten or redistributed. We strive to uphold our values for every story published.