Candy Braksick led her horse around the Lawrence Police Department parking lot, pointing out the rest of her Old-Fashioned Christmas Parade crew as they prepared for Saturday's pomp.
"You probably recognize George Washington and his wife," Braksick said, pointing to a man on horseback wearing a Revolutionary War-era hat.
George tilted his head up, looking presidential.
This group, the Petticoat Council, mirrored the all-female Oskaloosa City Council of the 1800s.
It was an odd site in the heart of the city in 2005, but right in tune with the 13th annual parade as entrants rode old-world transportation through downtown Lawrence.
CornerBank is the parade's main sponsor, and its staff organized the parade, receiving applications from groups over the summer and then gathering funds from donors in September.
Photo Gallery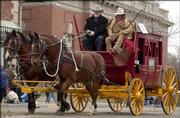 2005 Old-Fashioned Christmas Parade
Entries and photos from the 2005 Old-Fashioned Christmas Parade.
This year, more than 90 sponsors funded the parade, and, as it came down to crunch time, the event came off as well as organizers could have hoped.
"This whole last week was really busy," bank employee Barbara Braa said. "Everybody had to do their slice to make this come off."
The first horses and riders took the turn onto Massachusetts around 11 a.m. Saturday, as announcers barked breed types and hometowns as quickly as they could. About 130 groups participated in the parade.
As the horses trotted by, Oregon resident Martha Miller huddled in the bed of her silver truck. The truck had been there since 6:30 a.m., but Miller, formerly of Lawrence, had battled the cold for only the last half-hour.
"This is definitely colder than Oregon," she said.
Down the road, Roland Unruh leaned against the window inside Aimee's Coffee Shop, trying to glimpse at the passing parade as he waited for his friends to get a hot drink.
The Paola resident came in town to see his buddies and happened to catch his first old-time parade. But for a man who grew up on a ranch in western Kansas, the sight of the horses and wagons conjured a young man's memories.
"This is great," he said, smiling. "You know, I might even get a horse again."
Copyright 2018 The Lawrence Journal-World. All rights reserved. This material may not be published, broadcast, rewritten or redistributed. We strive to uphold our values for every story published.