Ask McLouth High running back Kevin Stewart to list his strengths as a football player, and unlike most skill-position athletes, he doesn't start gushing about his time in the 40-yard dash.
"My field vision and my lateral speed," Stewart said. "I'm not real fast. ... Probably there are a lot of guys in our league faster than me.
"It's all about reading your blocks in my book."
That book is now closed, and it will take quite an effort for a future Bulldog to rewrite it.
Stewart capped his stellar high school career this fall by posting more than 2,500 all-purpose yards and scoring an area-best 32 touchdowns, helping McLouth to a perfect regular season, the Delaware Valley League title and its first playoff victory in 25 years.
Those numbers are also good enough for one more accolade - selection as the 2005 All-Area Football Player of the Year.
Photo Gallery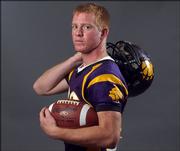 Super 25 Area Football team
The All-Area football team was selected by The Journal-World sports staff and is based heavily on voting by area coaches and performances throughout the season. All area coaches have an opportunity to vote for honors.
"He's a talented young man. He works hard to be that way," McLouth coach Harry Hester said. "He works really hard at everything he does. He's like me - he's a perfectionist."
Which made the first three years of Stewart's high school career a bitter pill to swallow. The Bulldogs finished 0-9 in both his freshman and sophomore campaigns before breaking through for four victories in 2004.
However, the possibility for a breakthrough - for both the team and Stewart - was evident.
When Hester took over the program in 2003, he brought with him a one-back offense designed to spread the defense and create gaping holes for ballcarriers. And while he didn't know much about Stewart - then just a sophomore - at the time, it didn't take the new coach long to discover who he'd trust with the bulk of the duty.
"I knew he was a playmaker. I could tell that from day one," Hester said. "Playmakers have 'it'. I don't know what 'it' is, but you can tell they have it."
Stewart rewarded that belief in a big way as a junior, running for 1,167 yards and 10 touchdowns and setting the stage for a big senior campaign.
The final breakdown this fall included 1,868 yards on the ground, 8.0 yards per carry and 28 touchdowns. He added 10 catches for 181 yards and three scores, averaged 32.2 yards on 12 kickoff returns - including a 95-yard touchdown - and chalked up another 117 yards via punt returns.
Just for good measure, he also chipped in five interceptions as a defensive back, earning first-team Delaware Valley League honors on both sides of the ball.
Stewart credited Hester's offensive scheme for his big numbers, twice using a word that wasn't heard very often around the moribund program the previous two decades.
"It's fun," Stewart said. "A lot of people think it's hard to run out of, but it's not. When we spread the offense out, we spread the defense out, too.
"It's fun to know that if you keep producing, you're going to keep getting the ball."
Whether the good times will follow Stewart to the next level hasn't been decided.
A handful of NCAA Division II and NAIA schools have expressed interest, but not just for football. Stewart's athletic future may be in baseball, where he is being recruited as a center fielder.
"I'm kind of waiting to see what offers I get and where I fit in best," Stewart said. "I'm not sold on either one."
For now, he'll settle for being known as a high school football player who helped put his tiny town back on the map.
"That's what I want our class to be remembered for more than anything - helping McLouth turn the corner forever," Stewart said. "That's a great feeling, to know you turned something around and you were a big part of it."
Copyright 2018 The Lawrence Journal-World. All rights reserved. This material may not be published, broadcast, rewritten or redistributed. We strive to uphold our values for every story published.