Houston — The quarterback pinned one behind his ear. The coach cradled an entire bouquet. The Texas Longhorns came out smelling like roses, with a resounding victory that put them one win away from the national title that has eluded the program for decades.
Led by four touchdowns from Vince Young, the second-ranked 'Horns put a Texas-sized thumping on Colorado, 70-3, in the Big 12 Conference championship game Saturday.
Next stop: the Rose Bowl, for the BCS title Jan. 4 against top-ranked USC, a 66-19 winner over UCLA in a later game Saturday.
"This bunch, all year, has controlled their own destiny, and they did the same today," coach Mack Brown said.
After their thorough dismantling of the Buffs - the eighth-largest margin of victory in the program's 113-year history - the 'Horns (12-0) waited to see who their Rose Bowl opponent would be. That was about their only suspense for the day.
"USC has probably the second-best offense, compared to our offense, in the nation," safety Michael Huff said. "It will be a great matchup for us. We just have to line up and play Texas defense, and we'll be fine."
With the game well in hand in the third quarter, some 'Horns fans clad in burnt orange could be seen sniffing yellow roses in the stands to celebrate. The Longhorns are going for their first undisputed national title since 1969, when Darrell Royal worked the sidelines.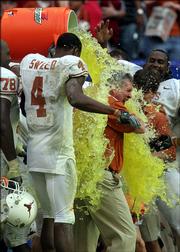 Saturday's victory gave Texas its first Big 12 title since 1996 and the first title of any kind for Brown, the veteran coach who built a reputation for his ability to recruit great teams but never take them to the ultimate destination.
"To get him this victory, we love playing for a guy like that," Young said.
Many felt there was no way Brown could have messed it up with this group. Against Colorado (7-5), it never was in doubt.
In the two-plus quarters Young played, he finished 14-for-17 for 193 yards with three touchdown passes.
"I'd just like to say, look at the year," Brown said when asked about his quarterback's Heisman bid. "Vince Young is a great football player and to me, the most valuable player on our football team for sure, and on any team in the country."
The blowout got even more out of hand in the third quarter when Texas scored on its first possession, scored again off a blocked punt, then made it 63-3 on a run by Jamaal Charles after CU lost a fumble at its 26.
That score, at the 9:59 mark of the third quarter, gave Young the rest of the day off.
As for Colorado - well - what really is there to say?
Counting their 30-3 loss last week to Nebraska that - sadly for the Buffs - wasn't enough to disqualify them from this game, they have been outscored 100-6 the last two weeks. This debacle comes a year after their 42-3 loss to Oklahoma in the title game. On Saturday, CU trailed 42-3 at halftime.
"A pretty numbing game," coach Gary Barnett called it.
It would have been completely laughable had CU quarterback Joel Klatt not taken a vicious, helmet-to-chin hit from linebacker Drew Kelson in the third quarter that left Klatt lying motionless in the end zone for a few, anxious moments.
Klatt (14-for-24, 100 yards) was diagnosed with a concussion. He was able to stagger off the field, though, and can consider himself lucky if he doesn't remember much of this one.
Copyright 2018 The Associated Press. All rights reserved. This material may not be published, broadcast, rewritten or redistributed. We strive to uphold our values for every story published.