Almost 3, Gianna Conterio of Miami wants a Dora the Explorer doll for Christmas this year. So do millions of other U.S. children.
Suddenly, Hispanic kids' TV characters are hot. The merchandise is rolling onto store shelves and right into toy boxes nationwide.
From Nickelodeon's "Dora the Explorer" to new entries like Scholastic's "Maya and Miguel," retailers expect clothing, toys, and gobs of other gizmos emblazoned with these characters to be among their big sellers this holiday season.
Clearly, retailers want to tap into the increasingly strong Hispanic buying power. Hispanics spend double the amount of money on children's products than other Americans.
"Hispanics are a strong target market," says Jonathan Breiter, senior vice president of Toy Play, which holds licenses for 25 "Dora the Explorer" products.
Hispanics tend to outspend the rest of the nation in some categories such as children's clothing, says economist Jeffrey Humphreys. Moreover, a large percentage of the Hispanic population is young.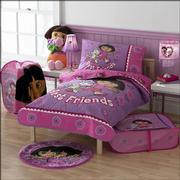 But there is more: With Dora leading the way, these popular characters are reaching beyond their original niche audiences.
Surprising even the show's creator, Dora ranks as the most recognizable 7-year-old in the world, with estimated retail sales of her merchandise at a staggering $3 billion. Her show regularly rates No. 1 for preschoolers, and was a pioneer in its storyline that helps teach Spanish to children.
Introduced by Nickelodeon four years ago, Dora, the animated Latina girl, embarks on adventures with a backpack and her friend, a monkey named Boots. In each episode, Dora teaches a Spanish word or phrase to the viewers and then asks them to use it to solve a problem.
Gianna's mom, Vivian Conterio, says her daughter sings along with Dora on TV all the time.
Glenda Pacanins, a Miami mom who wants to raise her toddler daughter bilingual, enjoys buying Dora merchandise. She had just returned from Target with Dora books and sneakers.
"Marketers finally realize Hispanics do spend lot of money," Pacanins says. "They can't ignore us anymore."
Networks say, ¡Vamanos!
Well aware of Dora's success and the demographics, television networks now find cultural diversity too attractive to ignore. Powerhouses in preschool programming are launching more bilingual shows or introducing Hispanic characters into some TV favorites.
Already Dora has competition in popularity and merchandising appeal from her 8-year-old cousin Diego, who this fall began starring on his own action adventure series, "Go Diego, Go!" Nickelodeon developed the Diego character in 2001 during Dora's third season.
A Diego doll was introduced briefly to the market for Christmas of 2003. Fisher-Price will roll out a comprehensive "Go Diego, Go!" product line, which includes action and activity toys, in the fall of 2006.
Brown Johnson, executive creative director for Nickelodeon Preschool Television, says her network likes to wait at least 18 months after launching a series to license the characters.
"We like to see the character successful first to build demand in the market," she says. "We also want to make sure the product is as good as the series."
Meanwhile, "Maya & Miguel," an animated series created by Scholastic for PBS, is gaining ground. The show - about the adventures of 10-year-old twins, their abuela, bilingual parrot and diverse neighborhood - launched its second season this fall. Already, it attracts more than 4 million children a week and ranks in the top 10 programs for children 6 to 8 years old.
"We looked at the future and saw that the country is becoming more multicultural," says Arminda Figueroa, Scholastic's project director for "Maya & Miguel."
"We are appealing to the kids in the United States with foreign-born parents."
Figueroa says Scholastic did extensive research to create characters that would help Latin children feel comfortable with their heritage and catch the eye of non-Hispanic kids too.
Strategic moves
"Every single element of the production of these characters was calculated and strategized, from the way they laugh to the way they move their mouths when pronouncing vowels," Figueroa says.
"Maya & Miguel's" bold leap from TV to toy stores after only one season has industry experts carefully monitoring their consumer charm. Scholastic has licensed the duo to 27 companies who are putting the characters on everything from notepads to hair accessories.
Breiter's Toy Play holds licenses for 38 "Maya & Miguel" products, including "¡Eso Es! Maya," a poseable talking doll expected to be one of the hot toys this holiday season. Breiter says he has produced a TV commercial targeted at all ages, all races.
The popularity of Hispanic characters is changing preschool programming.
Max, Emmy, Enrique
In February, PBS kicked off the third season of its popular "Dragon Tales" with a new Hispanic character, Enrique. The 6-year-old Colombian boy who is being raised by his father and his grandmother moved in next door to Max and Emmy and joins the two on their adventures to Dragon Land.
This fall, the creators of much watched "Jay Jay The Jet Plane" introduced Lina, a 4-year-old bilingual airplane. Lina introduces Spanish phrases and bits of Hispanic culture to Jay Jay.
Cyma Zarghami, president of Nickelodeon Television, hopes Hispanic kids characters continue their appeal: Dora is the first Latino kids character to have her own balloon in the Macy's Thanksgiving Day Parade.
And Dora's Talking Kitchen is one of the top 10 hot toys for this holiday shopping season, already spotted being lugged by parents on the New York subways.
Copyright 2018 The Lawrence Journal-World. All rights reserved. This material may not be published, broadcast, rewritten or redistributed. We strive to uphold our values for every story published.