New York — Just for the record, Patricia Cornwell's brain looks quite normal.
The best-selling crime novelist got a gander at her own gray matter while doing research for her new book, "Predator." Always eager to undergo whatever her characters do, she slipped into an MRI machine and got her head examined.
"They said for my age I had a nice brain," says Cornwell, before adding: "They didn't see any gross abnormalities, which shows you they probably need more sophisticated equipment."
The brain, it turns out, plays an unexpected role in Cornwell's latest novel, the 14th in her series featuring forensic criminologist Kay Scarpetta and her ragtag band of investigators.
Unlike writers such as Thomas Harris, Cornwell had little interest in the inner wiring of killers when she launched her series that is widely credited with popularizing the forensic thriller. But while the franchise transformed the one-time police reporter into a wealthy woman whose books are translated into 32 languages, there's a catch: Her success has put her out of business.
"Let's face it: This forensics stuff has been beaten to death on television," she says. "Why waste a chapter explaining an electron microscope when we can watch it on TV? I'm afraid to say, if you're realistic, you've got to change with the times."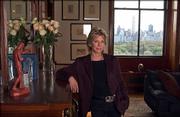 While discussing her literary predicament with her publisher, Cornwell hit upon her next step. "It's going to be the brain. It's got to be - it's the last frontier," she says during an interview in her sprawling Upper West Side apartment overlooking Central Park.
"To tell you the truth, forensic science, for all its bells and whistles and as much as I do with it, is a cleanup crew. You come in after the fact when it's really too late to do anything to stop what's happened. What we don't really explore is the why."
This time, readers get to hear the voices inside a serial killer's head, listen as he tortures his victims and eavesdrop on his fantasies. Cornwell - who also came up with a pretty gruesome way to truss up victims with wire coat hangers - had a painful time writing those scenes.
"It is disturbing because you think, 'How can I think of things like this? How am I capable?"' she says. "It's disturbing that you can imagine these things. What it tells you is that we're all capable of almost anything."
So far, her fans seem willing to go along for the ride. "Predator," which boasts a first-run print of a million copies, has spent three weeks atop best-seller lists.
Life amid crime
Cornwell, 49, began her career as a crime reporter in North Carolina for The Charlotte Observer. Then she decided to be a novelist and did a six-year stint at the Medical Examiner's Office in Richmond, Va., before her first book, "Postmortem," was published in 1990. She also has penned a more lighthearted series - though no less deadly - featuring reporter-turned-cop Andy Brazil.
"I've always had a very fearful imagination, even as a little kid," Cornwell says. She remembers making up stories for the neighborhood kids and once making a little boy burst into tears and run home.
TV's impact
Cornwell's no fan of the current glut of forensic science shows populating TV's prime-time - the "CSI" franchise, "Bones," "Crossing Jordan," "NCIS" and others. She considers them ridiculous - and dangerous.
One episode of "CSI" still gets her upset. The premise: A body had plummeted from a high-rise window, and the fictional investigators determined it had to be a homicide since the victim was wearing eyeglasses. Why? They reasoned that no suicide victim would want to see his own fall.
"You cannot make assumptions like this!" Cornwell says. "When you're talking about somebody who is so deeply depressed that he or she is suicidal to the point of jumping off a building, I'm not really sure we can say for a fact that person is going to take his or her glasses off. It's just not black and white that way."
What Cornwell fears is that fans of such shows will begin blurring the line between fact and fiction when they sit on juries. She cites examples of killers set free because jurors believed police didn't perform the blood or gun tests they saw on TV.
"I try to educate people in my books, but it's clearly not enough," she says. "People now know about all the bells and whistles, but what they don't understand is the nuance of when to use them."
Copyright 2018 The Associated Press. All rights reserved. This material may not be published, broadcast, rewritten or redistributed. We strive to uphold our values for every story published.