Katie Studebaker's Christmas shopping list always includes at least one item worthy of a raised eyebrow.
It might be a heifer. It might be a pair of goats.
She's not a farmer. She's just a concerned citizen of the world.
"We all have so many things, and it just bothers me to think about people who don't have a place to live or food to eat," says Studebaker, a Lawrence resident.
So every year, instead of exchanging traditional gifts with friends, she and her husband buy livestock that's shipped to needy families in countries around the globe. Their friends get an engraved card acknowledging the donation made in their honor.
The Studebakers broker the transactions through North Carolina-based Samaritan's Purse, but several similar agencies serve as clearinghouses for this type of conscientious, global giving.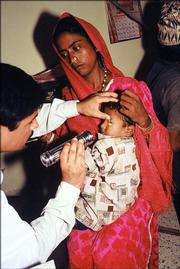 And opportunities abound closer to home, too, through local programs like Adopt-a-Family.
Americans plan to spend $738 this year on holiday gifts, decorations, cards, candy and food, according to the National Retail Federation. And although a Guidestar.org survey indicates that 80 percent of charities expect recent natural disasters to keep end-of-year contributions at or below last year's level, alternative gift agencies remain hopeful.
"It has been more successful every year," says Harriet Prichard, founder and director of Alternative Gifts International, with headquarters in Wichita. "We started out in 1980 with a small market, and I think we raised $8,000 and sent it off to three nonprofit agencies.
"Over the years, we've raised over $17 million that we have sent to many, many projects on every continent."
Thinking globally
Alternative Gifts International supports projects that provide medical assistance, hunger relief, shelter and protection for the environment. For the price of a video game ($44), donors can provide medicine for 100 impoverished people in Central America. For the cost of dinner and a movie ($83), women and children threatened with blindness in Nepal or Bangladesh can receive screening, eye surgery and glasses.
One of the most popular efforts among the 35 being offered this year, Prichard says, provides solar heat to Lakota Sioux living on the Pine Ridge Reservation in South Dakota, where winter temperatures dip into unbearable territory.
Contributors also can help send oxen to help Bolivian farmers plow their fields.
"That will help them to increase their harvest by about 50 percent," Prichard says. "The cost of an iPod would just about cover an oxen for a Bolivian farmer and enable him to move out of poverty and find some food security for his family."
Donors can spend as much or as little as they wish, and 90 percent of their contribution goes directly to the program they select.
While the Studebakers still buy toys, clothes and electronics for their grandchildren - who likely wouldn't understand if they received a card saying a goat had been donated in their name for Christmas - they feel strongly about opening their arms even wider when they can.
"All of us have more stuff than we need; I don't want any more stuff, and neither do they," she says of her friends. "It's a good feeling to know that maybe you've helped somebody else and not gathered any more stuff."
Acting locally
Ruth Hughes and her family share that sentiment, but they act on it closer to home. The Lawrence residents helped here and there with charitable programs during past holiday seasons, but this year they've taken their giving up a notch and adopted a family through the Ballard Center.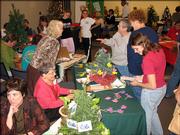 Armed with the ages, genders and wish lists of a family in need, the Hugheses will shop for gifts and provide a holiday dinner - all anonymously.
"The main reason we decided to do this was that we wanted our kids to realize that others are not as fortunate as they are, and hopefully for all of us to think of others and not always about ourselves," Hughes says. "We plan to have our son (Cameron, 15), who is still at home, help with the shopping and the delivering of the packages."
As of last week, 600 Douglas County families - about half of those who applied - still were unspoken for in the Adopt-a-Family program, says Linda Lassen, director of human resources at Penn House, which has adopted out 91 of its 200 families.
To qualify, families - which can include parents and children, single people or the elderly - must meet income guidelines.
Local giving
Interested in adopting a family this holiday season? Contact one of these Douglas County social service agencies for more information. ¢ Penn House, 842-0440 ¢ Salvation Army, 843-4188 ¢ Ballard Center, 842-0729 ¢ Douglas County Senior Center, 842-0543 ¢ East Central Kansas Economic Opportunity Corp. (ECKAN), 841-3357 ¢ Pelathe Center, 841-7202
"Some of them don't like the fact that they have to ask for help, and I can understand that," Lassen says. "We have a family that works, but by the time they pay the baby sitter, pay the bills, pay rent, buy food - there's nothing left.
"This is why we started this program is for families who are trying to help themselves but can't."
Even those who can't adopt an entire family can pick up a few extra goodies while shopping and donate them to an Adopt-a-Family agency.
"I think that's what the holidays are really all about is giving and helping other people," Katie Studebaker says. "That to me, in my faith, is what I've been taught since I was a child. And we've tried to teach that to our three girls and our grandchildren."
Copyright 2018 The Lawrence Journal-World. All rights reserved. This material may not be published, broadcast, rewritten or redistributed. We strive to uphold our values for every story published.