Louisville, Ky. — Louisville center David Padgett held the ball at the top of the key, made one quick dribble and tried to underhand a pass through the lane to wide-open teammate Juan Palacios.
The ball, however, deflected off a surprised Palacios and out of bounds.
It might take awhile for Padgett's new teammates to get used to a big man who passes like a guard.
The turnover was one of Padgett's few missteps during No. 7 Louisville's 90-65 victory over Prairie View A&M; in the Colonial Classic. Playing in his first game in almost two years - he sat out last season after transferring from Kansas to Louisville - Padgett finished with 17 points and 10 rebounds as the Cardinals (2-0) overcame two weeks of rust to run by the Panthers (1-3).
"It was awesome being out there, I was looking for that for a year," Padgett said. "I was extremely nervous, but that's not unusual, I get nervous every game."
Padgett played 27 minutes and showed no ill-effects from a sprained left knee suffered during an intrasquad game three weeks ago.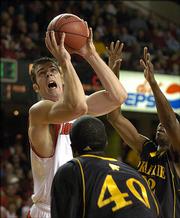 "I always set high expectations," Padgett said. "I always try to play within my game. My teammates got the ball to me in position to score."
Palacios led the Cardinals with 19 points, and Louisville shot 59 percent from the floor in the second half. The Cardinals out-rebounded Prairie View 45-29 and forced 22 turnovers. Phillip Scott led the Panthers with 19 points, but Padgett made sure there would be no upset.
Showcasing the deft shooting touch and floor vision coach Rick Pitino has been talking about since he transferred following the 2003-04 season, Padgett shot 7-of-8 from the floor and 3-of-3 from the line while adding four assists.
No. 8 Boston College 77, Sacred Heart 66
Boston - Jared Dudley scored a season-low 11 points but managed to surpass 1,000 in his career, adding 12 rebounds for Boston College.
No. 9 Memphis 91, Cincinnati 81
Cincinnati - Freshman Antonio Anderson emerged from his deep shooting slump by scoring 32 points, and Memphis beat Cincinnati.
North Carolina 83, No. 10 Kentucky 79
Lexington, Ky. - Reyshawn Terry scored 25 points to help North Carolina jolt Kentucky, ending the Wildcats' 11-game winning streak at Rupp Arena.
Defending champion North Carolina showed it is still plenty dangerous despite a depleted roster. The Tar Heels lost the top seven scorers from the team that won it all last season - three to graduation and four to the NBA draft.
No. 11 Florida 80, Central Florida 47
Gainesville, Fla. - Corey Brewer had 25 points, seven rebounds and five steals to lead Florida to a rout of Central Florida.
No. 12 Illinois 65, Xavier 62
Chicago - Dee Brown and James Augustine carried the scoring load, and Marcus Arnold's inspired play off the bench late in the second half helped Illinois rally from an early 15-point deficit.
No. 13 Michigan State 72, Arkansas-Little Rock 67
Grand Rapids, Mich. - Paul Davis scored 17 of his 23 points in the second half to lead Michigan State past Arkansas-Little Rock.
No. 14 Iowa 72, Valparaiso 59
Iowa City, Iowa - Jeff Horner scored a season-high 19 points, and Mike Henderson tied a season best with 15 for Iowa.
Houston 69, No. 15 Arizona 65
Houston - Oliver Lafayette scored 28 points, and Houston defeated Arizona.
No. 17 Indiana 79, Eastern Michigan 63
Bloomington, Ind. - Robert Vaden scored 18 points, and freshman Ben Allen added a career-high 15.
No. 20 Nevada 77, Pacific 70
Stockton, Calif. - Mo Charlo scored 16 of his 22 points in the second half and grabbed eight rebounds, and Nick Fazekas added 23 points, 11 rebounds and three blocks.
No. 21 Alabama 60, Winthrop 57
Tuscaloosa, Ala. - Chuck Davis scored 22 points to lead Alabama over Winthrop.
No. 22 Wake Forest 78, Elon 59
Greensboro, N.C. - Justin Gray scored half his 22 points during the opening five minutes of the second half.
Copyright 2017 The Associated Press. All rights reserved. This material may not be published, broadcast, rewritten or redistributed. We strive to uphold our values for every story published.