Los Angeles — Run, Reggie, run - all the way to the Rose Bowl, and probably with the Heisman Trophy in tow.
A step away from playing for an unprecedented third straight national title, Reggie Bush and No. 1 Southern California stomped into the championship game by overpowering its crosstown rivals Saturday.
Bush ran for 260 yards and two touchdowns in a 66-19 victory over No. 11 UCLA, the 34th consecutive victory for the top-ranked Trojans and 16th straight against a ranked opponent.
Now only Texas stands between USC (12-0 overall, 8-0 Pac-10) and a perfectly historic season.
"This is the type of season we wanted from Day One," Bush said. "This is the type of season we envisioned."
USC had close calls in 2005, but the Trojans brought back memories of their 55-19 beating of Oklahoma in last year's national-title game with their performance against UCLA (9-2, 6-2).
"We've done everything we can do to this point, we've done it with a little flair, and a little bit of drama along the way," USC coach Pete Carroll said.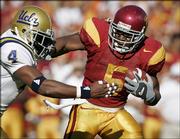 No. 13 Georgia 34, No. 3 LSU 14
Atlanta - D.J. Shockley threw two touchdown passes to Sean Bailey, Bryan McClendon set up another score with a blocked punt, and Georgia won its second Southeastern Conference title in four years.
Cheered on at the supposedly neutral site by a crowd dressed largely in red and black - not surprising, considering the Georgia campus is only about 75 miles east of Atlanta - the Bulldogs (10-2) earned the SEC's automatic berth in the Jan. 2 Sugar Bowl at the Georgia Dome.
LSU (10-2) couldn't even lock up a consolation BSC bid.
Florida State 27, No. 5 Virginia Tech 22
Jacksonville, Fla. - Willie Reid returned a punt 83 yards for a touchdown, the defense continually harassed Marcus Vick, and Florida State upset Virginia Tech. The Seminoles (8-4) snapped a three-game losing streak - the program's first since 1983 - and won the league title for the 12th time in 14 years. They turned around a disappointing season and earned a Bowl Championship Series berth in the Orange Bowl, where they likely will face No. 4 Penn State.
No. 12 West Virginia 28, South Florida 13
Tampa, Fla. - Pat White ran for 177 yards and two touchdowns, leading West Virginia (10-1, 7-0 Big East) in the 12th-ranked Mountaineers' final tuneup for a BCS appearance.
No. 16 Louisville 30, Connecticut 20
East Hartford, Conn. - Michael Bush rushed for three touchdowns in his first appearance since missing two games because of a sprained foot, and Hunter Cantwell threw for another score to lead Louisville (9-2, 5-2 Big East).
Copyright 2018 The Associated Press. All rights reserved. This material may not be published, broadcast, rewritten or redistributed. We strive to uphold our values for every story published.