Baghdad, Iraq — The kidnappers of four Christian peace activists threatened to kill the hostages unless all prisoners in U.S. and Iraqi detention centers are released, according to a videotape broadcast Friday by Al-Jazeera television.
The tape showed what the broadcaster said were two Canadian hostages. An American and a Briton are also being held. In a statement delivered with the tape, the kidnappers gave the two governments until Dec. 8 to meet their demands, according to Al-Jazeera.
The Canadians were shown eating from plates of what appeared to be Arabic sweets. In a second clip, the British and American hostages were shown to talking to the camera, but no audio was transmitted. All four men appeared frightened.
The hostages called on the U.S. and British governments to withdraw from Iraq, Al-Jazeera reported, quoting the statement from the kidnappers, who earlier identified themselves as the Swords of Righteousness Brigade, a previously unknown group.
The corner of the video showed two crossed black swords and the name of the insurgent group written in red Arabic script - the same emblem shown in an earlier video of the hostages.
The group has claimed that the kidnapped men, from the Chicago-based Christian Peacemaker Teams, were spies working under the cover of peace activists. The group denied spying.
Robin Buyers, a member of Christian Peacemaker Teams in Toronto, said the group was still analyzing the threat.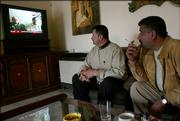 "We have been in Iraq before the bombing of Baghdad. We opposed the war and opposed the occupation," Buyers noted.
The activists were seized Nov. 26 near Baghdad University. A car blocked their car, gunmen got out, threw the driver and translator out and drove away with the four Westerners, security officials said Thursday. The officials spoke on condition of anonymity because they are not authorized to talk to the media.
The men were kidnapped at the same place where Giuliana Sgrena, a reporter for the Italian newspaper Il Manifesto, was seized Feb. 4 and held for a month by a group calling itself Mujahedeen Without Borders. That group had not been known before and has not been heard from since, but may be using a different name.
The Christian activists - Tom Fox, 54, of Clear Brook, Va.; Norman Kember, 74, of London; James Loney, 41, of Toronto; and Harmeet Singh Sooden, 32, of Canada - had been repeatedly warned by Iraqi and Western security officials that they were taking a grave risk by moving about Baghdad without bodyguards.
Insurgents, including al-Qaida in Iraq, have seized more than 225 people in Iraq, killing at least 38.
Copyright 2018 The Associated Press. All rights reserved. This material may not be published, broadcast, rewritten or redistributed. We strive to uphold our values for every story published.