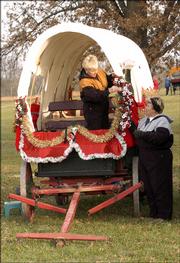 Lawrence may see some freezing drizzle or snow flurries today.
However according to 6News Weather, any precipitation that falls will be light.
At 7:35 a.m., Lawrence's temperature was 28 degrees with a relative humidity of 71 percent.
Temperatures are expected to stay cold today so if you're heading out to the Lawrence Old-Fashioned Christmas parade this afternoon, don't forget to bundle up. Today's high will be 34 degrees with winds coming out of the north at 10 to 15 mph. Temperatures will drop to 18 degrees tonight.
According to the National Weather Service, Sunday is expected to be partly cloudy with a high near 34 degrees and a low of 16.
Winter Weather
Winter weather information
Copyright 2018 The Lawrence Journal-World. All rights reserved. This material may not be published, broadcast, rewritten or redistributed. We strive to uphold our values for every story published.