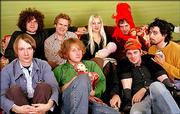 Michael Brown is no longer head of FEMA. But Mike Elsener, Ben Armstrong and Matt Focht are still running Head of Femur. The Nebraska natives formed the band while living in Chicago, and they continue to employ a revolving lineup of seven to 10 musicians, including members of Bright Eyes, Mayday and Lullaby for the Working Class. Musically, their output can be described as upbeat indie rock decorated with pulsing synthesizers, bouncing bass lines and occasional disco beats. Head of Femur performs at 10 p.m. Sunday at The Replay Lounge, 946 Mass.
U-35 is a DVD magazine about a collective of artists hellbent on creating a scene that spans the entire Interstate Highway 35. Performing with an ever-changing cast of musicians, dancers and DJs, the idea is to expand to include all the states bordering this aortal interstate vein to the heartland. In Lawrence, the event features Apocalypse Theatre, High Blue Star, Vibralux, Mercury Mad and the Plastic B's, DJ Magnetic South, DJ Big Brother and DJ Massacre. The show begins at 9 p.m. today at The Bottleneck.
If you like bluegrass, you already know about The Wilders and The Midday Ramblers. If you don't like bluegrass, either of these two premier area bands could make you a quick convert. Walnut Valley Festival favorites The Wilders have the ability to set a stage aflame in a jiffy with hot doses of formative-years country (Hank Williams, Jimmy Rogers, Carter Family), while the Ramblers favor the golden-era bluegrass songbook (Bill Monroe, Flatt & Scruggs, Ralph Stanley). Since both bands are known for rising to the occasion, expect plenty of holiday cheer. The Holiday Hoedown begins at 7:30 p.m. Saturday at Liberty Hall, 642 Mass.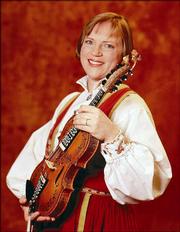 "Something about the Norwegian Hardanger fiddle compels me to make it accessible to American audiences," says Karen Torkelson Solgård, a master of the instrument. Solgård uses familiar tunes and English verses to build Hardanger fiddle music, complete with asymmetric rhythm and ornamentation. The Minneapolis fiddler will play a "Norwegian Christmas" concert, complete with
storytelling and sing-along opportunities, at 7:30 p.m. today at the Visitor Information Center, 402 N. Second St. Admission is $10.
One of the longest-running
holiday concerts at a college or university in the country continues this weekend with the 81st annual Holiday Vespers concert at the Lied Center. The KU Symphonic Choir, the KU Symphony Orchestra, the Celebration Ringers from the First United Methodist Church in Lawrence, Sharim Netzim (Singing Hawks) and the KU Chamber Choir will perform such holiday classics as "Joy to the World," "Chanukah, O Chanukah" and "Sleigh Ride." Against the Grain, an undergraduate men's barbershop quartet from KU, also will sing seasonal favorites. Performances will be
at 2:30 p.m. and 7:30 p.m. Sunday at the Lied Center.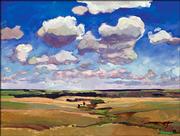 Self-taught artist Zak Barnes keeps a house in Hawaii, but he always returns to Kansas and its prairie landscape - the lifeblood of his paintings. He handles paint generously, giving the viewer a sense of the freedom and movement present in the open prairie. And each of his paintings is named for a woman, a loving tribute to the physical features, colors and emotional timbre of the settings, which often include people and objects, too. Barnes and other gallery artists will be featured through Jan. 20 in "Kansas Landscapes," an exhibit at Fields Gallery, 712 Mass. An opening reception will be from 6 p.m. to 10 p.m. Saturday.
Copyright 2018 The Lawrence Journal-World. All rights reserved. This material may not be published, broadcast, rewritten or redistributed. We strive to uphold our values for every story published.