Photo Gallery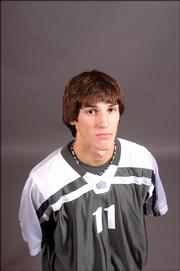 All-Area boys soccer team
The All-Area boys soccer team was selected by The Journal-World sports staff and is based heavily on voting by area coaches and performances throughout the season. All area coaches have an opportunity to vote for first-team, second-team and honorable-mention honors. <br/><br/>Not pictured: Kaleb Gesner ¢ Fr. Perry-Lecompton ¢ MF ¢ Honorable-mention CenKSCA All-Region.<br/>David Hassinger ¢ Sr Tonganoxie ¢ GK ¢ Collected 64 saves ¢ Finished with goal-per-game ratio of 2.79.
It was about the sixth practice of the season when first-year De Soto High boys soccer coach Darren Erpelding kicked his entire team out of practice.
Erpelding's young team was not responding to the new style of play he was trying to implement.
"They kept wanting to do things their way, so I kicked them out," Erpelding said. "They went up to the practice field and held their own practice, and then came back the next day and were much more responsive. That was like the turning point."
Despite an inexperienced squad, the Wildcats mustered a 9-9 record and advanced to sub-state, good enough to make Erpelding the inaugural All-Area Boys Soccer Coach of the Year.
"It was not an easy transition," Erpelding said. "So much more goes on as a head coach than what I had to worry about as an assistant. I lost ridiculous amounts of sleep."
Erpelding said he always second-guessed whether he had his team prepared for a game, and he said he replayed games over and over in his head. He thinks the Wildcats easily could have had 12 victories, but he said there were games his young team had mental lapses and did not play to its potential.
Erpelding said this year was a rebuilding year. De Soto will lose its starting sweeper and All-Area Player of the Year, Lance Williams, but will return fellow first-team performers Zach England and Brady Seaman.
"If there was a year that we were going to struggle, this is it," Erpelding said. "But I feel like now they know what is going on, and it will be a fun style of game to watch for years to come."
Copyright 2018 The Lawrence Journal-World. All rights reserved. This material may not be published, broadcast, rewritten or redistributed. We strive to uphold our values for every story published.